Blog
April 9th, 2020
ENTÊTE
This blog is a mixture of personal reflection, thoughts on process, on how working with Keith Tippett has helped reshape the topography of my piano/performance practice, and deserved praise for the work and pianism of one of the most significant musicians of our time.
BACKGROUND
Since discovering Keith Tippett's music (Mujician I, II, III / Dedicated to You, But You Weren't Listening / Septober Energy / Frames) as a student at Leeds College of Music in the late 1990s, I've been fascinated and stimulated by Keith's musical universe. I remember one of our first meetings – he was a guesting with Stitch Winston's Modern Surfaces, just over the road at The Wardrobe. I was part of a trio with bassist Riaan Vosloo, and drummer Dave Black – we played odd lunchtimes, and before most of the evening concerts organised by Leeds Jazz (usually in front of the main artists whilst they ate their pre-gig meal) – in exchange for £5, a little food, and free entry into the gigs downstairs. I saw Keith's name in the programme, and prepared arrangements of a couple of his own compositions and included them in the set. Thanks to the supportive management at the time (James & Martin Hudson), we were given carte blanche and weren't afraid of playing out or making more adventurous moves in this setting, and, as a trio, had mastered the subtle art of doing what we wanted musically; without upsetting any of the punters (avant-garde subterfuge). So, we did our thing. Sitting downstairs before the gig, I felt a hand on my shoulder and the words "Were you the piano player from upstairs?". I confessed, and Keith then complemented me on the music, on not being afraid to play more adventurous stuff on a restaurant gig, and generally reaching out in support of what we were up to. To have confirmation that we were on the right track from someone like Keith, was huge. 
Over the years, Keith and I continued to meet at gigs, chat about music, and even once Keith phoned me at home after listening to a recording of a 2003 Bath Jazz Festival commission with Bourne Davis Kane; offering generous words of support. It wasn't until we met by chance backstage at the 2016 Herts Jazz Festival that Keith suggested we do some playing together. I was travelling to London that evening, and met up the following day with John Cumming for a long-overdue pint… I mentioned the conversation with Keith, and wondered if anyone would be interested in hearing us play live – to which John responded with "Well, I would – how about a gig at Kings Place at London Jazz Festival next year?".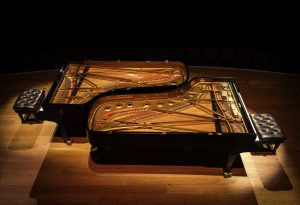 RECALIBRATION
"There's too much directing going on around here" –  Orson Welles
Keith and I had arranged to meet up in Bristol once a month for several months leading up to the 2017 LJF concert. Initially, I was daunted by the prospect of playing with someone whose approach to piano playing I so admired, and had stolen (or at least attempted) so much from. Our first musical meeting, after several afternoons of conversation at Keith's home, took place at The Victoria Rooms under the auspices of Bristol University, and set the format for all subsequent occasions: playing, conversation, playing, tea break/conversation, playing, etc.
I recall the very first few minutes of playing together and immediately realised that something unfamiliar was occurring, internally. I found myself shunted from my usual 'place' into another dimension altogether: suddenly there was no room for superficiality of any kind, and the conscious directorial prompts usually present in these situations ("do this" / "do that" / "go here next" / "damn – I should have warmed up as I can't articulate myself clearly – and sound shit" / "that's Keith Tippett sitting over there, and I can't be fucking about…"), were unbearably loud and intrusive. They were not the TRUTH of the situation. I had been unaware as to how loud these internal prompts had become, and amazed at how active and alive they are in their guise as comforting whispers as part of my practice both on and offstage.
Unearthing these interruptions prompted a need to confront and reevaluate their function: What are they doing for me now? What use are they? and ultimately – Are they the truth? Probably not.  My hunch is that these are leftovers – mental artefacts that were an important part of a highly frenetic thought processes that informed my earlier solo work, where Zorn-like musical jump cuts were a prominent feature, and 'fifth gear' thinking ahead to the next texture/gesture/sample/technique, was an absolute necessity for the effectiveness of musical execution. In this particular setting, there seemed neither use nor room for them, and have watched them gradually still, transmute themselves into more useful characteristics, or become muted altogether. Whatever is happening, I don't wish to observe too closely, nor consciously action my evaluations onto/into the processes that are naturally unfolding. Cue Orson Welles…
COMMUNION
Typically, Keith and I would naturally play for around twenty/twenty-five minutes a session, with around three sessions in each meeting. Before our first concert in London, we were kindly given access to Colston Hall, Bristol, on a Sunday afternoon. Filmed by Ray Kane, the session below is a rare and intimate excerpt of this meeting, and illustrates the emergence of a burgeoning musical synergy.
Having now played with Keith a number of times, I was beginning to intimately understand the range and scale of Keith's dedication to the instrument through daily practice. Note that this work does not make its appearance by way of quotation or verbatim account (incidentally, neither of us 'practice' improvisation at home). One example of this can be found on the re-release of Keith's seminal, and largely overlooked solo piano album, The Unlonely Raindancer. The titles on this album were taken from a series of recordings that were made on a solo tour of The Netherlands in 1979. They are unmatched in their musical imaginativeness and pianistic virtuosity. Even more startling is that these pieces are only fragments of a much larger whole: whilst on tour, Keith was playing three sets a night for almost a fortnight, with each set averaging from twenty-five to forty minutes in duration. The title track is taken from a single thirty-minute set, and (on the album), concludes as things are beginning to pick up in the context of the full set:
Alongside the transmutation of practice-specific work into a more spontaneous-sounding language in performance, are the often shorter, gestural 'thumbprints' each musician possesses that also find their way into a performance. The presence of a lexicon of techniques or favourite phrases is certainly not foreign to many improvising musicians – particularly in more conventional jazz settings, where any number might figure in various guises thought the course of a solo. To paraphrase jazz pianist, composer, and educator Bill Kinghorn:
"Whatever it is we do in the practice room we can only hope that this work translates through into an improvisation, somehow… To repeat verbatim is not the objective. But rather, that this daily work may manifest or reveal itself, refracted through the lens of each performance situation. That's the fascinating thing about it: no one can explain exactly how it works…"
Keith's view of how he uses his own familiar elements takes a more structural view, and one that considers them amidst a conceptual and durational reach; where their emergence are as a direct result of how each improvisation progresses:
"It's not so much that they are thrown in arbitrarily, it's more about how and where they are placed within the architecture of an improvisation; and about being able to survey the whole landscape of the piece as it unfolds."

Surveying and evaluating an unfolding sonic landscape will be familiar to anyone who has witnessed any substantial improvised performance. One phenomenon that is common to all of our duo performances is a perceptual 'shortening', or suspension of chronological time whilst onstage. Curiously enough, this feeling is almost always shared by our audiences, and have received many remarks such as "It felt as if only ten minutes had gone by", or, "Really, was that forty minutes?". Such responses correlate exactly with our own perception of events, and confirm my own feelings in respect to the gradual erosion of aforementioned 'mental artefacts'.  A deeper immersion and attention to the music at hand is the result, and an absence of obstruction that permits a triangulation of events between performer, music, and audience: where the audience is not merely a passive presence; experiencing it, but an equal participant in its creation. This was definitely the case for our concert at the 2018 Marsden Jazz Festival, where our musical journey was very much felt together with the audience. It was my very first experience of an audience rising unanimously rise to their feet, and despite the emotive impact of the situation, Keith remarked as we left the stage:

"Not even the very best gigs feel like that – they won't forget that for a good while. They were transported, just as we were".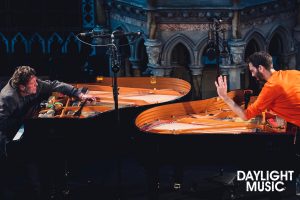 Keith has often describes his own motivation for making improvised music as a desire to "transport people out of chronological time". Anyone who has seen Keith perform, will have observed the concentrated reverence and space that Keith affords which are both prologue and epilogue to these improvisations: eyes fully closed in respect for any sounds which have yet to arise, or at its close, to dissolve completely – and for other 'inaudible' elements that have been summoned during the course of the playing to leave the space in their own time. 
PRACTICE
After spending much time in Keith's orbit, I am fully convinced that a consistent and deep immersion in work at the piano has prepared him for uninterrupted communion with the instrument in the moment of performance, and, as mentioned above, is accompanied by a quality of reverence that reveals itself almost instantly to anyone who has seen Keith perform. Not that I would wish to imitate or mirror the effects of Keith's practice, but to take inspiration from the spirit in which it is undertaken and use this as a basis to inform my own intuitive investigations.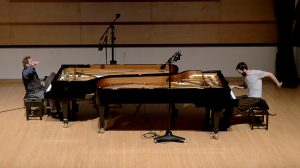 GRATITUDE
In conclusion, a few words of thanks is deserved to those who have made this duo a reality on practical and logistical levels: Richard Brown and Arts Council England, and John Cumming from Serious for supporting this project from the very beginning; Polly Eldridge, Maija Handover, and Chloe Arnett from Sound UK; Dr. Peter Scott & Professor John Pickard at the Department of Music at Bristol University, and Todd Wills at Colston Hall for their generosity and access to rehearsal space; Sam Hobbs and Ray Kane for rehearsal and concert recording/filming respectively; Philip Bourne, Paul Hudson, and PJ Davy for photography; a special thank you to Serious, Barney Stevenson, and Ben Eshmade – all of whom worked especially hard to make some very special gigs happen. To Geoff Amos, for always being there at the right moment. And finally to Keith and Julie Tippett – for their friendship and kindness, a warm stove, and those all-important pre-road trip cups of tea. x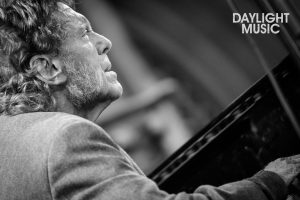 October 6th, 2019
Not so long ago, I visited Sarah Nicolls at her studio in Brighton, and was introduced to her 'inside out' piano: a grand piano with its frame and interior displayed on the vertical plane, opposed to the traditional, horizontal position. There are many benefits to such reorganisation – not least for the opportunity to become fully immersed in its sound, close up; but also for ease of access for the exploration of its (now outside) interior.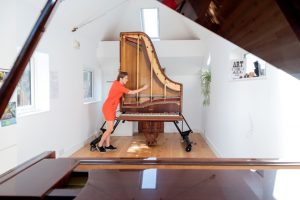 Sarah's idea is to commission a prototype of this instrument, the Standing Grand, from the extraordinary craftsman David Klavins, and thus, moving a step closer to making this concept a reality for all pianists. The idea that one could transport this instrument anywhere, is an extremely attractive proposition for any pianist, whose bookings are almost certainly dictated by the availability of a quality instrument at the venue.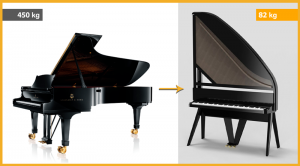 Even if such an instrument is present, those practicing at the more contemporary or adventurous end of the scale may well encounter resistance: choice of repertoire, stylistic predisposition, or pianistic approach, can often be enough for many venues or institutions to categorically refuse access to their 'good' piano. Unfortunately, it is the culture of dedicated and persistent ignorance that fails to perceive logical explanation to the contrary. The existence of a Standing Grand would mean an end to this perennial dilemma faced by many pianists.
A little while back, Geoff Smith (also based in Brighton) introduced the Fluid Piano to the world, and, with one masterstroke of  innovation, turned the piano into a multicultural instrument. The Standing Grand is of the same vital importance: a seismic shift needs to occur in the perception of what a piano can and needs to be for pianists, instrument manufacturers, and for the wider context of music making in the 21st Century.
Innovations of this kind are all too rare, but you can help change this! With only nine days to go in the Standing Grand Kickstarter campaign, Sarah is just shy of £8000 too make this a reality so, please share the news of this project as much as you can. If 173 people could give £50, or 87 people give £100…
GO SARAH!!
April 22nd, 2018
On discovering the work of various figures from British Jazz, I quickly came to the Music of Mike Westbrook – albums such as Metropolis, Marching Songs Vol. 1 & 2, Love Songs, Release, and Citadel/Room 315 (composed in the old Leeds Polytechnic building; now part of Leeds Metropolitan University), were the ones always leaning against my record player as a student. I couldn't get enough.
I decided to write to Mike with a view to forming a similar band to his 'Concert Band' line-up (as on Celebration / Release / Love Songs, et al.), and playing some of that repertoire. Below is the letter I received in reply: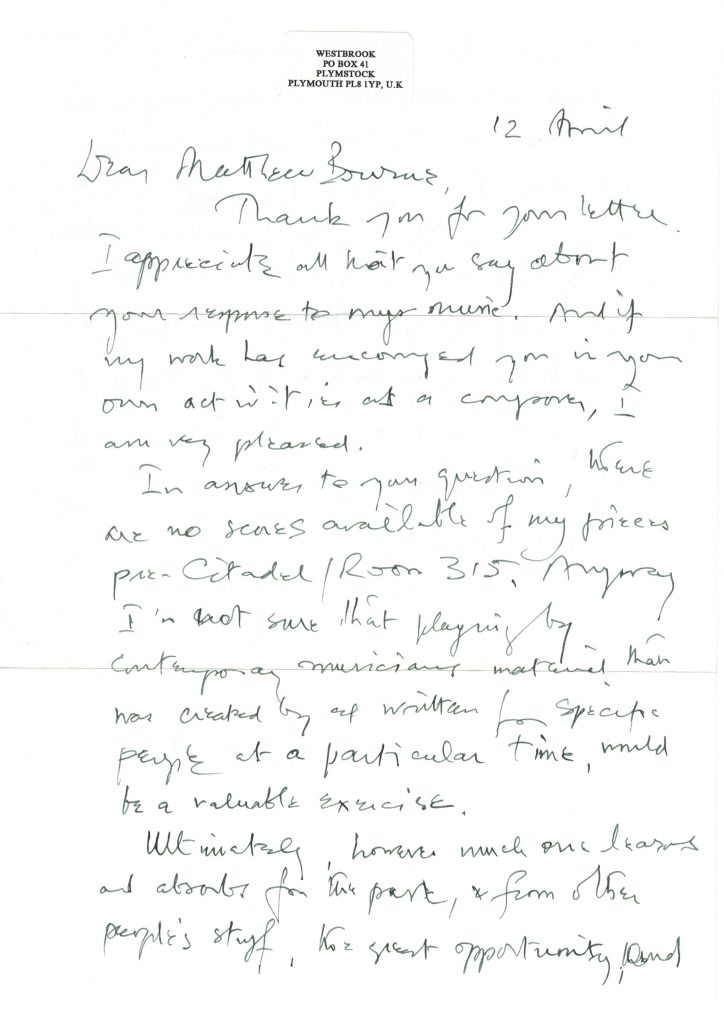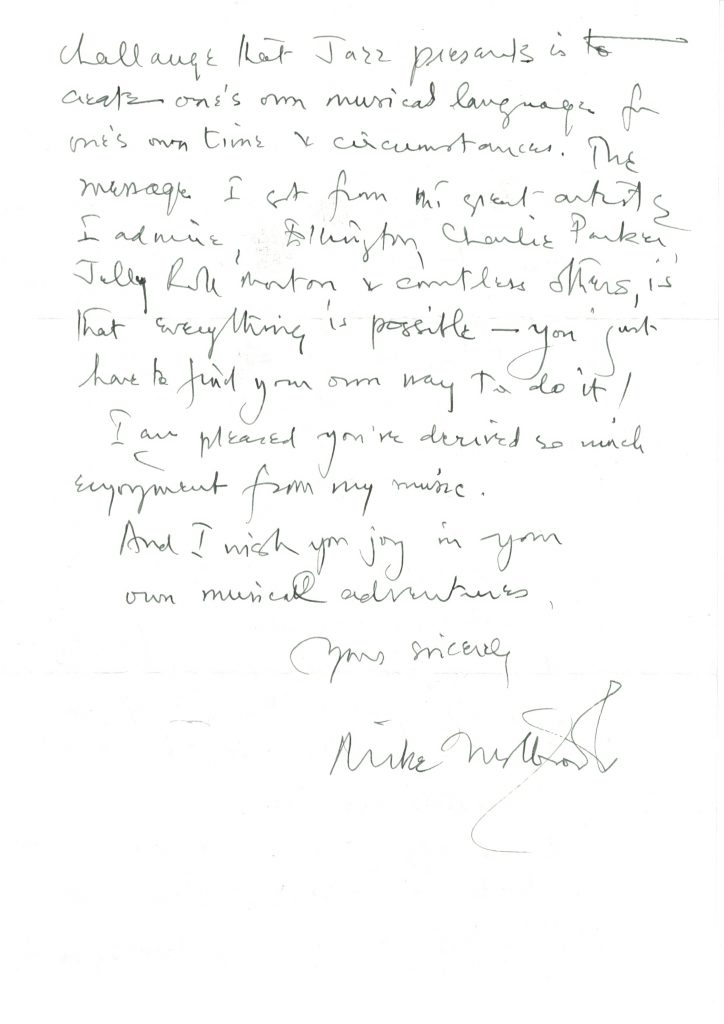 I can remember my initial response as one of disappointment – sad that scores of this material were no longer available. So, I slipped it inside my belovéd copy of Metropolis. I would forget that I had this letter, save for when I took the record from its sleeve whenever I came to play it (I practically wore it out when I first bought it – a story for another time). Every time I have taken the record from its sleeve over the last twenty years(!), the letter presents itself, and I always read it, in full.
It is curious how, through re-reading this letter many, many times, it has revealed certain truths that completely eluded me as a burgeoning student of Jazz in the late 1990s. The following sentences are particularly profound, and continued to reveal new depths, and to resonate with me more deeply with each reading:
"I'm not sure that playing by contemporary musicians material that was created by and written for specific people at a particular time, would be a valuable exercise.
Ultimately, however much one learns and absorbs from the past, and from other people's stuff, the great opportunity, and challenge that Jazz presents is to create one's own musical language for one's own time and circumstances. The message I got from the great artists I admire, Ellington, Charlie Parker, Jelly Roll Morton and countless others, is that everything is possible – you just have to find your own way to do it!"
That's absolutely right.
It is perhaps the single most important piece of advice any musician could receive. The letter is like an old friend – reenforcing my own philosophy on music making, and giving me continued encouragement to find my own path, my own voice.
I was prompted to write this little blog on watching a video of Mike's latest solo piano record, PARIS. Mike's piano playing has an assured elegance, colour, light, and shade. It is the counterpart to his unique voice as a composer of large-scale works for ensembles, both large and small; and I love how Mike controls and distills his vast musical universe into a singular essence at the keyboard.
Mike Westbrook is an example to anyone embarking on a lifetime of music making: to always keep moving, creating new opportunities, and to look forward to the next musical adventure…
Thank you, Mike, for replying to that young, naive student, all those years ago. x
October 26th, 2017
Twenty-Seven Areas of Contention is a piece I was commissioned to write by Serious, for Mind on the Run: The Basil Kirchin Story, and was premiered at Hull City Hall on February 19 2017. Devised using two of my favourite electrically-powered musical instruments: the LAMM and my beloved Roland Re-201 Space Echo tape delay, Twenty-Seven… is more an exploration of the intangible-yet-perceivable aspects of Kirchin's musical ouevre.
For those of you who are familiar with the album, moogmemory (2016), you will hear I have used the same sound (patch 36 – my all-time favourite LAMM programme) as for I Loved Her, Madly – albeit explored in a couple different ways as the piece progresses.
It was easy to be consumed by the breadth of Kirchin's work to the point of paralysis: "exactly how do I transmute the individuality and diversity of one man's work into a single solo 'response'?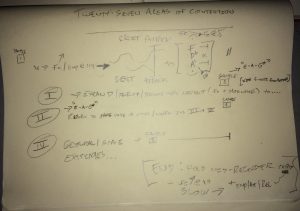 I chose to focus on only one or two elements: firstly, I was given a recording of an interview Kirchin gave for Late junction, broadcast some years ago, and chose various segments of dialogue I thought interesting from a storytelling viewpoint. Krichin mentions finding his musical soulmate, Ian Firth (who, incidentally, was the sound engineer for the live event) – and felt a sense of genuine warmth and generosity that I wanted to make explicit. In one particular segment, Kirchin sings three notes – and it is these pitches that become a source of variation and manipulation in the second half of the piece.
Secondly, I was particularly drawn to the works that make up the Primitive London album. Kirchin didn't use any synthesisers (as we know them today), but, he does manage to conjure up a sound world that is somehow reminiscent of electronics, but without being overtly so. There is something about the aesthetic of his sound world in these pieces that I really connected with.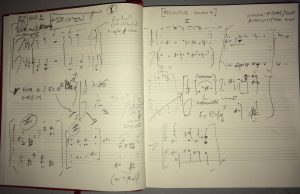 So, by taking a tiny part of the essence of Kirchin's work, I attempted to attend to this throughout the writing process. I use the term 'writing' not in its traditional sense, as much of how I work relies on the repetition of a loose set of ideas, performing them again and again until they become almost automatic: the piece becomes an extension of my faith in improvisation as a means of completing any piece – and, ideally, brought to life in a live performance setting.
Many thanks to Serious, Hull City Council, the BBC for permission to use the live recording, and, of course, Basil Kirchin; for allowing me to be included in what was a truly special occasion.
So, why is this piece titled Twenty-Seven Areas of Contention? Well, Basil Kirchin might just tell you, himself…
Twenty-Seven Areas of Contention and a live version of Sam, are available as a FREE download on Bandcamp.
December 22nd, 2016
Paul Bolderson 21/03/48 – 21/12/16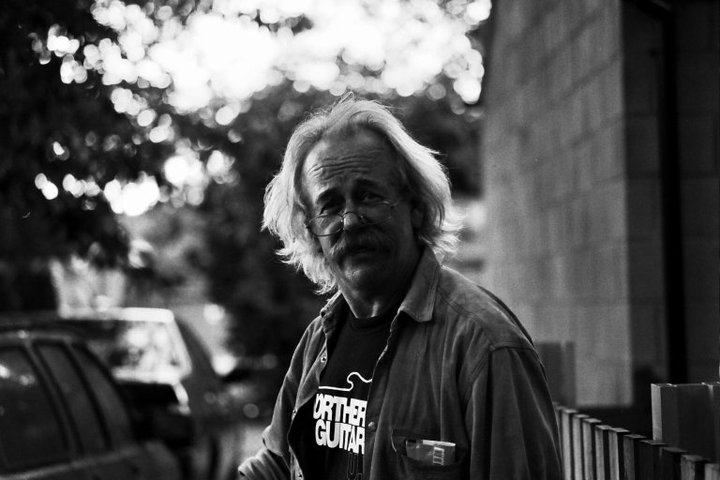 Paul Bolderson lived an extraordinary life
Affectionately known as 'Peebs' or 'PB', Paul's larger-than-life persona was infectious and inescapable – and he never failed to leave a lasting impression on those who came into contact with him.
I was introduced to Paul via Sam Hobbs, way back in 2001 – when he rented one of his garages to Sam and Mark Creswell, who converted it into a little studio. Paul's garage, and 'The Kabin', as it became known as, was the site for many happy memories (most of which involved copious amounts of cups of tea – more on that later), and the making of The Electric Dr. M – where PB features both photographically, and literally: all of the track titles relate to names he gave to his tools, nature, people, things – e.g., 'Pinki' is the name for his pink ratchet Snap-On screwdriver (he chose a pink one as it would be the least likely thing to get stolen in the event of a break in at the garage). I even have the Romesse pot-bellied stove he installed into The Kabin – now in my front room…
Little did I know that meeting this man would turn into a long-lasting and close friendship – I would see and/or speak to him several times a week; and I hope that his distinctive, booming Yorkshire voice will never leave me.
There is so much to say about him, that I cannot do justice to the wealth of friendship that he gave to me, and to so many others. His life was fascinating: from his early years spent growing up in Rhodesia, the move to Morley in his teens, and his subsequent tales of love, loss, adventure, motorcycles.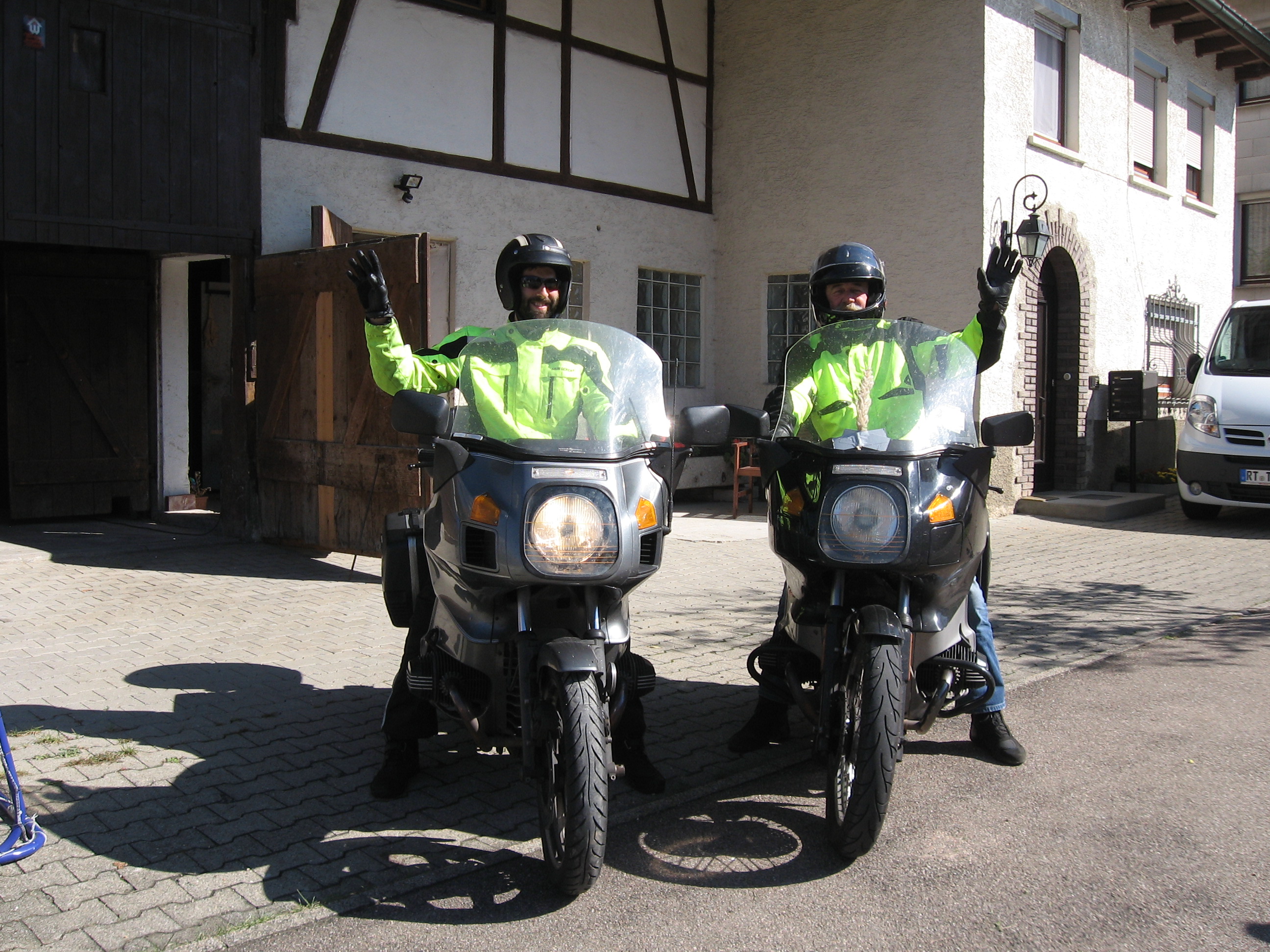 Paul introduced me to motorcycling, which led to us undertaking a trip from Leeds to Valencia in 2011 – taking in visits to friends throughout France, Spain, Germany, and Belgium – clocking up some 3500 miles in the process.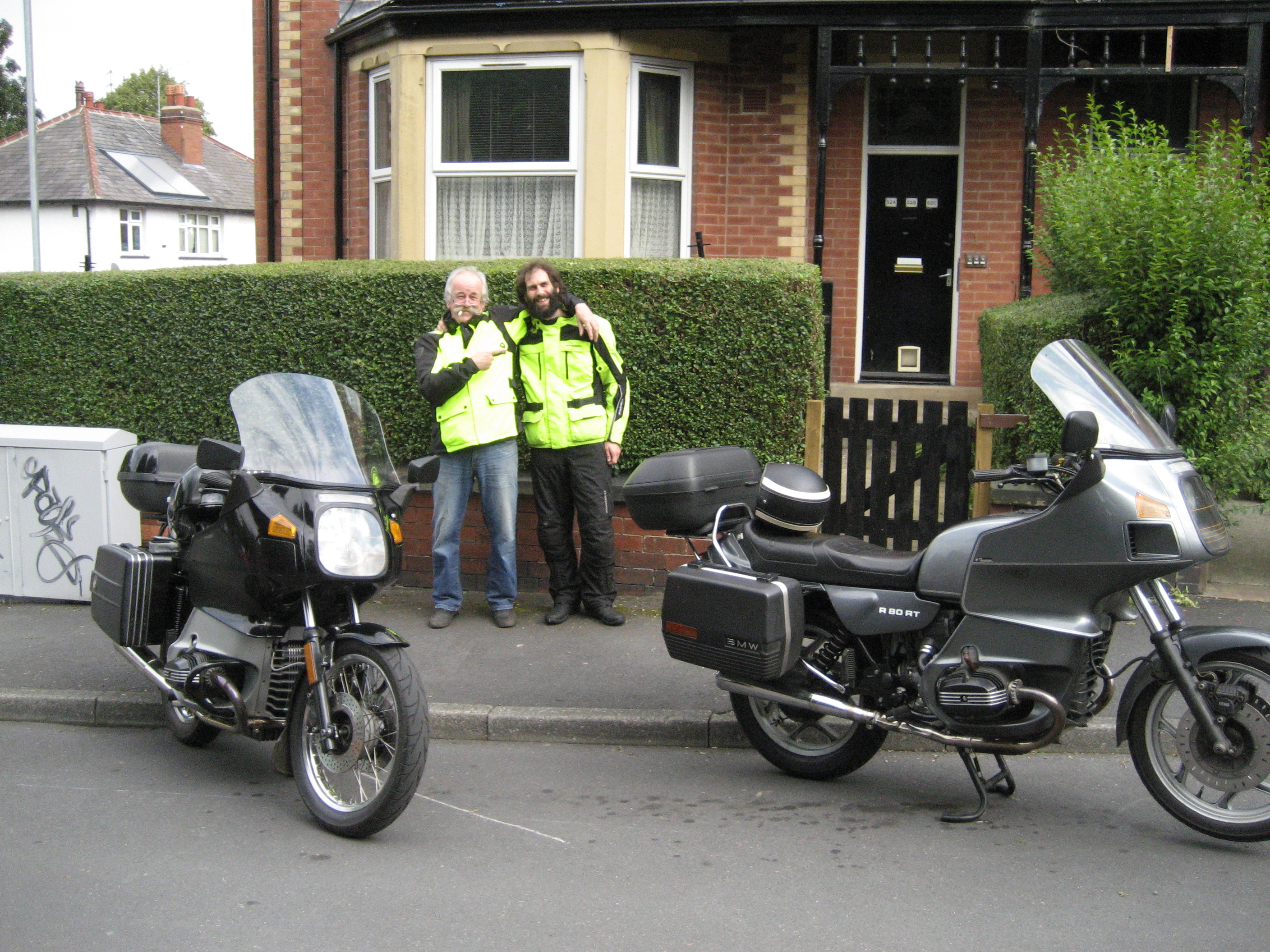 This was a huge undertaking for him, especially as he'd suffered a major stroke only months before. He never gave up, wouldn't be beaten by anything, and always making plans for the future. This is something he continued to do, right up until 21:30 yesterday: to kick ass, to keep making plans, to continue to live, to adapt, to overcome.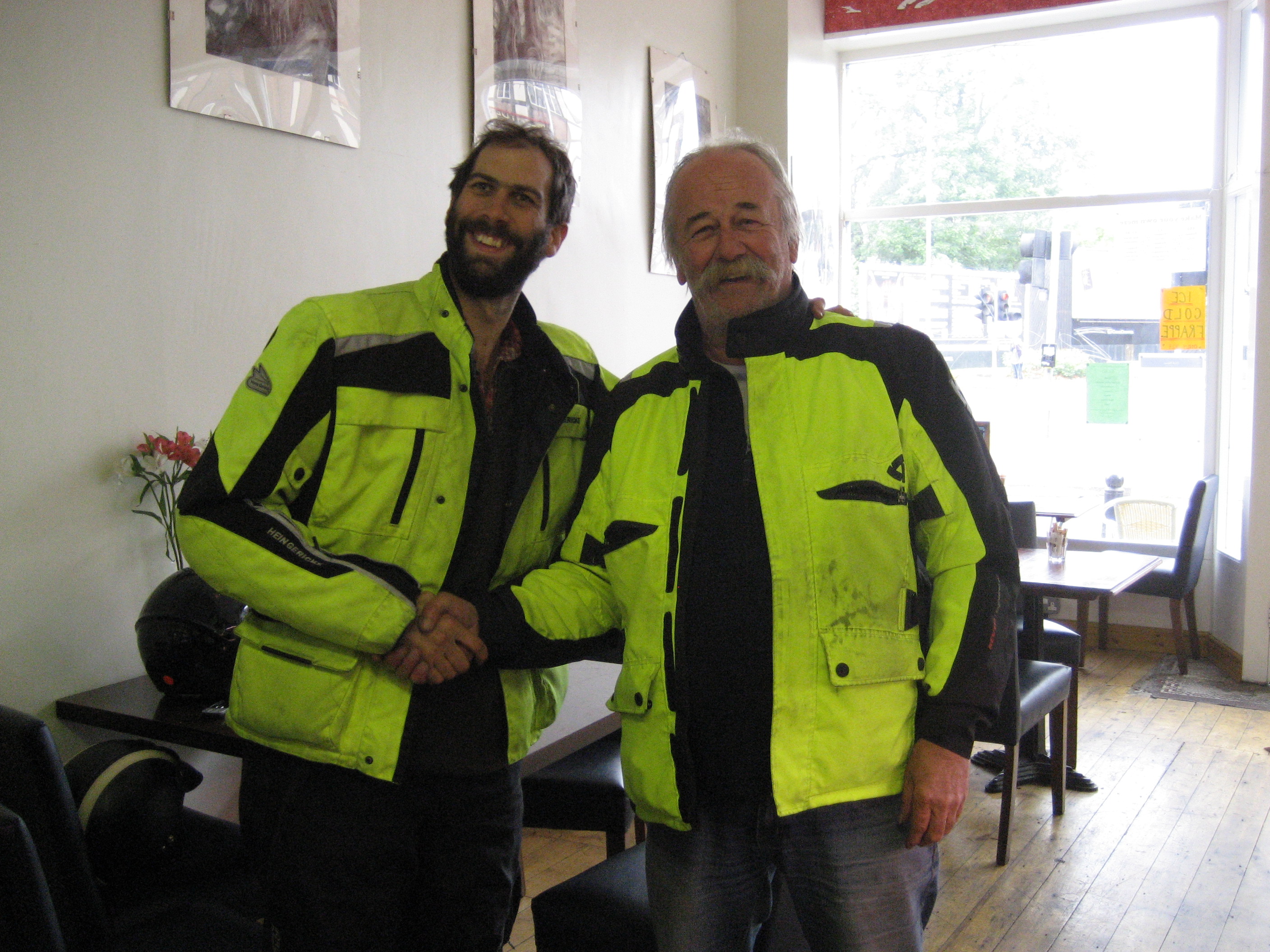 (He also made amazing Yorkshire puddings)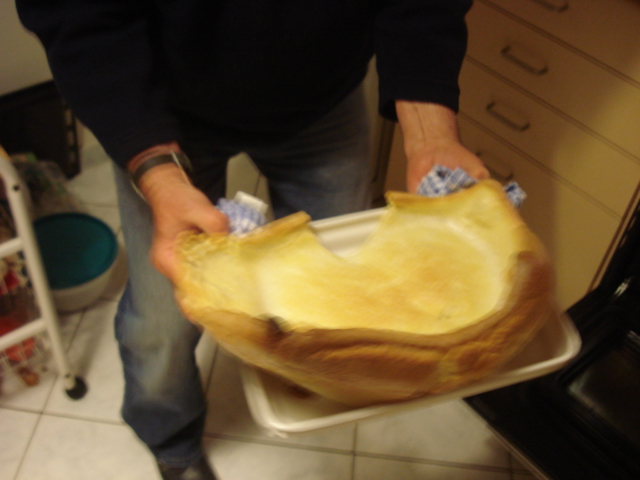 I learned SO much from this amazing man. Especially, that 'taking the piss' could be a universal language. He had so many sayings/platitudes that are countless in number, too. Something for every occasion. Here are a few to be going on with:
Women: can't live with them, can't shoot 'em
Slow Down (usually said to me)
A cunt is a cunt, in any colour
Adapt and Overcome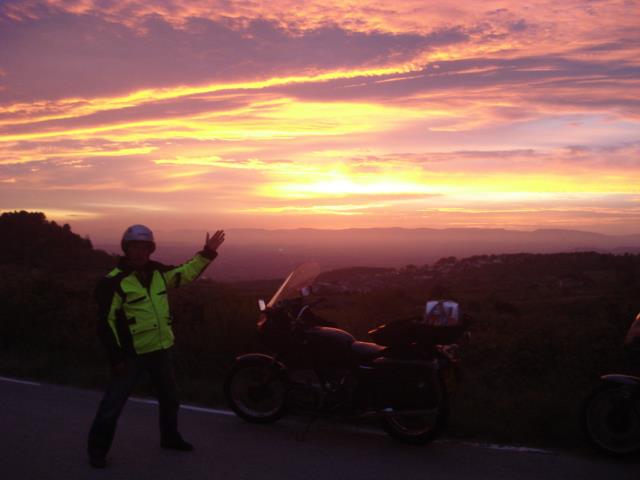 Having spent much of his working life as a design draftsman, working on cars and bikes seemed effortless to him – and he was a great teacher, too. I learned to use (his) tools under his supervision – he taught me all about motorcycle maintenance (with his own unique brand of Zen, I might add!), and was amazing to hear him describe the art of listening pertaining to being a motor mechanic. This undoubtedly came from his love of music, too. To me, he was as great a listener as any musician I know.
Tea, and the drinking of, was a major part of any conversation or personal encounter with Peebs – and played a major role in any kind of problem solving: "Leave it alone, have a cuppa tea, and come back to the problem afresh". Basically, a cup of tea solves everything. That's absolutely right…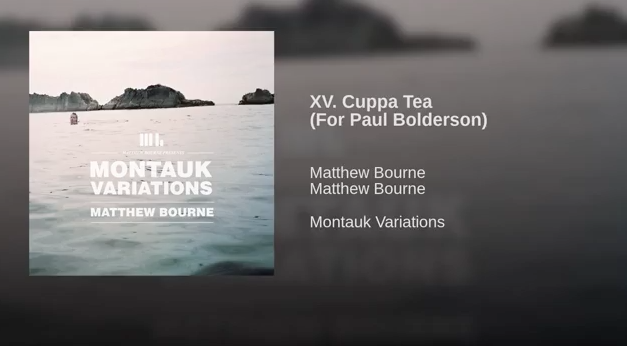 It was a privilege to know you, and an even greater one to have been able to call you one of my very best friends. Long may you live on in everyone who knew you – as you gave so much. Other than being God ("I AM GOD!"), I don't think you knew just how extraordinary you actually were.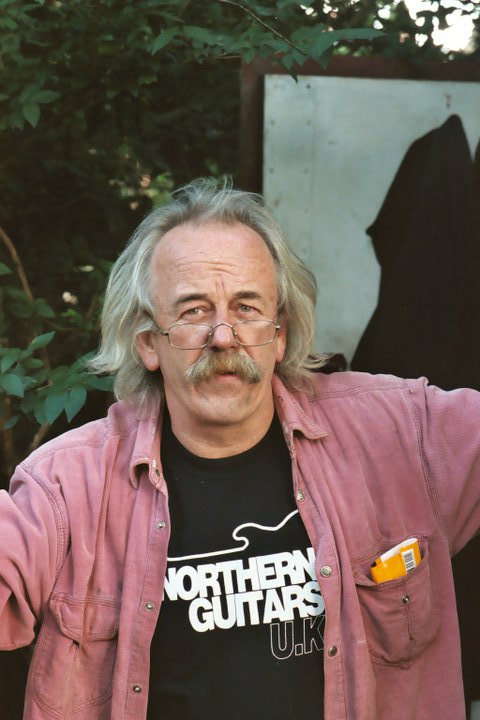 Sleep well, Pb's.x
September 29th, 2016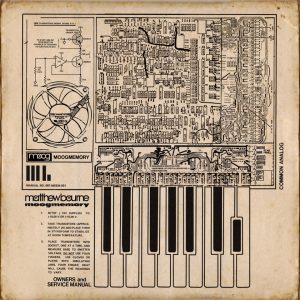 During the preparation for the moogmemory live show with Michael England, earlier this year, a number of new pieces came out of our collaboration together. moogmemory plus brings these new tracks together, along with reworked versions of Daniziel and Sam; reflecting how these pieces have changed through live performance. In addition, there is a homage to the late Keith Emerson. Emerson's Lake was recorded upon hearing the news of his tragic death. Emerson was a true pioneer – and somewhat of a background inspiration for me: having the courage to tour with a mighty moog modular, despite the obvious concerns of tuning/reliability under ever-changing atmospheric and temperature conditions; Emerson deserves full respect.
When asked about such issues re touring with an all-analogue setup, my response is usually "it's fine". As, most of the time, it is… Any glitches, or unexpected changes in sound or functionality have to be dealt with spontaneously, and, as far as is possible, musically, too. If there's one lesson that has been learned through many live performances is that the concept of 'reliability', when pertaining to any musical instrument, is a false trail.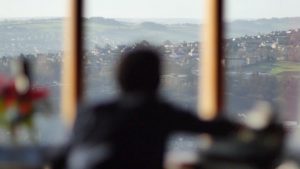 Unlike the album, the live setup included the addition of another synthesiser beside the LAMM: a Minimoog model D (in need of some attention). Keighley, Dave, and Emerson's Lake, all feature this instrument and, for those of you that are familiar with its sound, may be able to detect this particular instrument's own 'idiosyncrasies': the modulation circuit is completely fuck*d – and is all the better for it. My one and only criticism, for want of a better word, of Moog equipment, is that the sound is so beautifully clean and refined; making horrible, aggressive, gnarly, and unpleasant textures quite difficult to achieve. My Minimoog's faulty modulation function is, therefore, unique; and am not about to change it in a hurry.
The first four tracks of this EP are something of a departure from the album tracks, in that there is slight evidence of some shredding on the Minimoog, where the ghosts of Chick Corea (Return to Forever period), Jan Hammer, and even, on the closing section of Dave, Bill Evans, can be found lurking.
In addition, the bonus tracks Meniscus and Jacqueline, that were previously available in the download version of moogmemory, are now included in this EP. The lead instrument on Jacqueline is an old, barely-functioning push-button stylophone…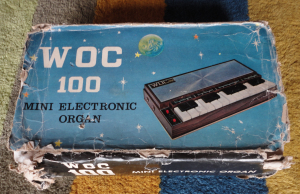 I love Phil Collins's Sussudio so much. One of my favourite pop songs of all time. I'd always wanted to do a version of it on the LAMM. I didn't expect it to turn out quite the way it did, but, that's how I roll…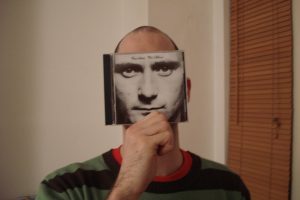 Hopefully you will find moogmemory plus to be a worthy companion to moogmemory, even in spite of the addition of another synthesiser. Maybe a 'Keytar' will be the next instalment – who knows. That said, only the back-breaking Moog Liberation would do.
But even then, fuck off…
moogmemory plus is available to pre-order here, or via The Leaf Label.
April 21st, 2016
moogmemory is a forthcoming album for The Leaf Label, recorded entirely on a Lintronics Advanced Memorymoog (LAMM) – a standard Moog Memorymoog that has been specially modified by engineer Rudi Linhard
.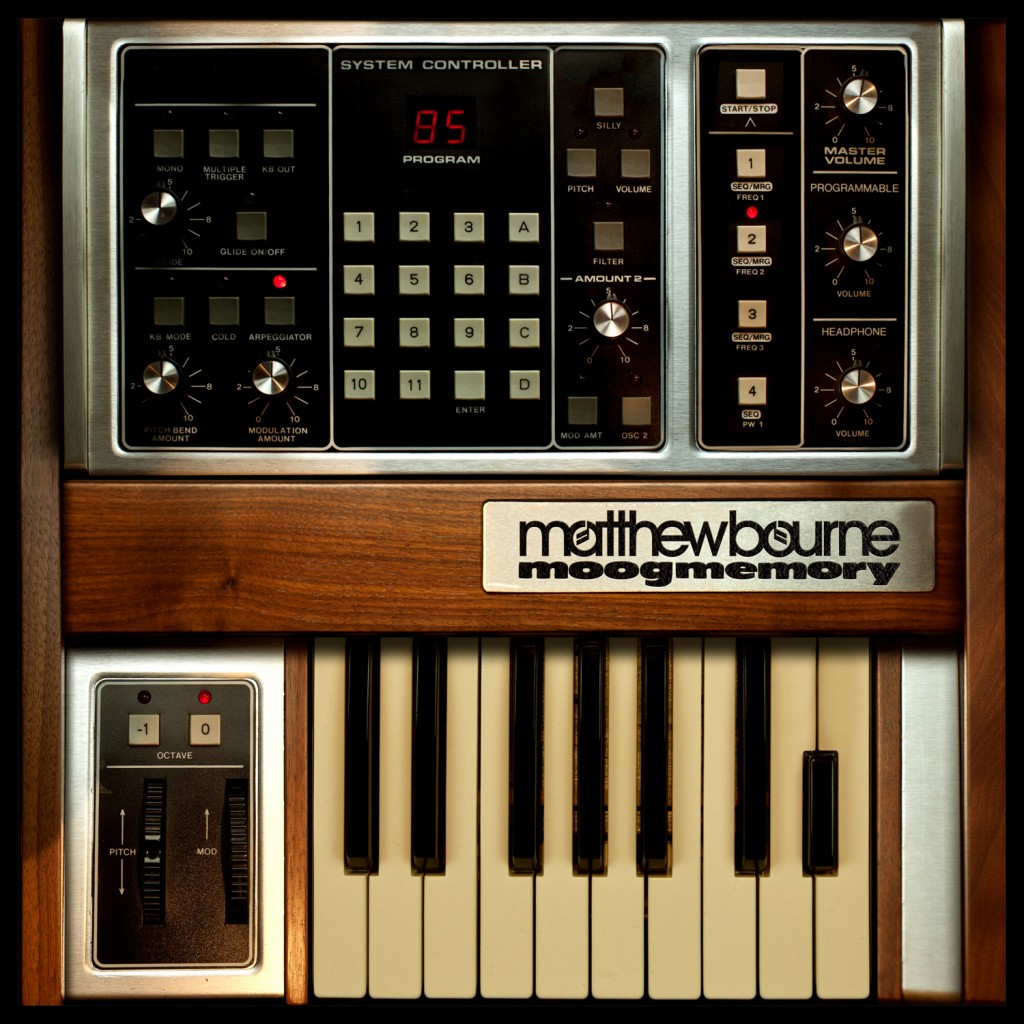 moogmemory is also taking the form of a live, audio-visual show, touring from March-April 2016, where I will be collaborating with filmmaker and graphic artist Michael England:
I've known Michael for many years, and we've always wanted to work together. Now, finally, we've got round to producing what is hopefully the first of a many projects together.
As the album came into being during August-November of 2014, I reflected on just how important the journey of this particular instrument was: where it had come from, and the people involved in its life seemed to speak out and have a strange, uncanny resonance.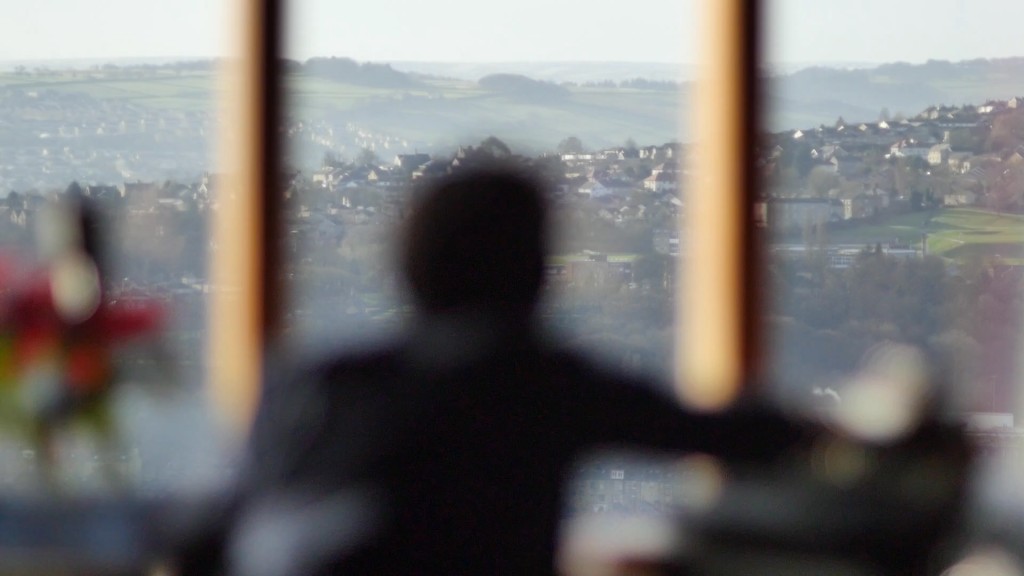 I'd bought the instrument from keyboardist extraordinaire Phil James in 2007 – who had owned it from new, and was a treasured part of his collection. I remember going to pick it up from him – and met a passionate musician, who knew the instrument inside out, and put it through its paces… I'll always remember Phil's reaction when I came to put it in the back of the car: it had been an integral part of his music making for twenty-five years…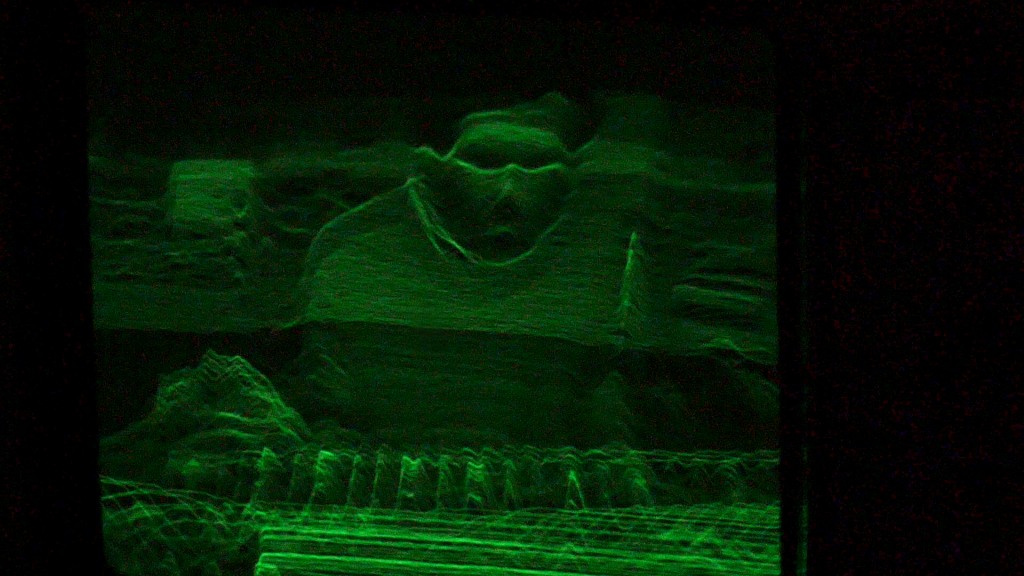 Fast forward nearly ten years, and with numerous visits to the repair shop, and one huge upgrade from Rudi later, and we have an instrument that has travelled some considerable distance, and been lovingly cared for by those that have nurtured its brilliance.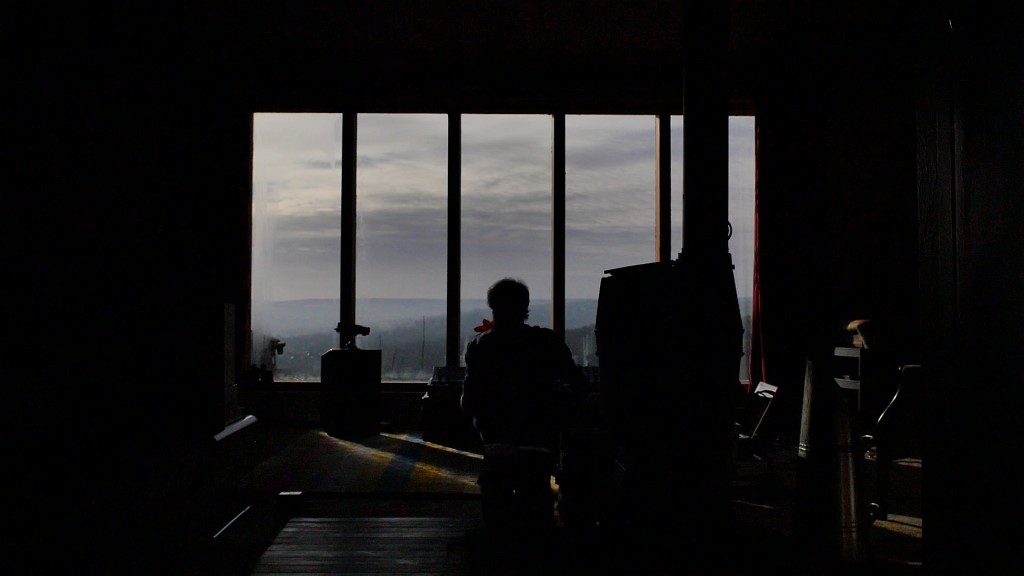 It is this human story around the instrument that has interested Michael and I, and has governed our rationale for the project as a whole, choosing to focus on very specific set of narrative criteria. The film and graphic elements will reflect place (from locations as a varied as Montauk, NY, to my home in Airedale, and drone camera filming on the Yorkshire moors), and people – including my communications and correspondences with Rudi, and a visit to Phil James's studio in Huddersfield just a few weeks ago, capturing the reunion with his former instrument on film.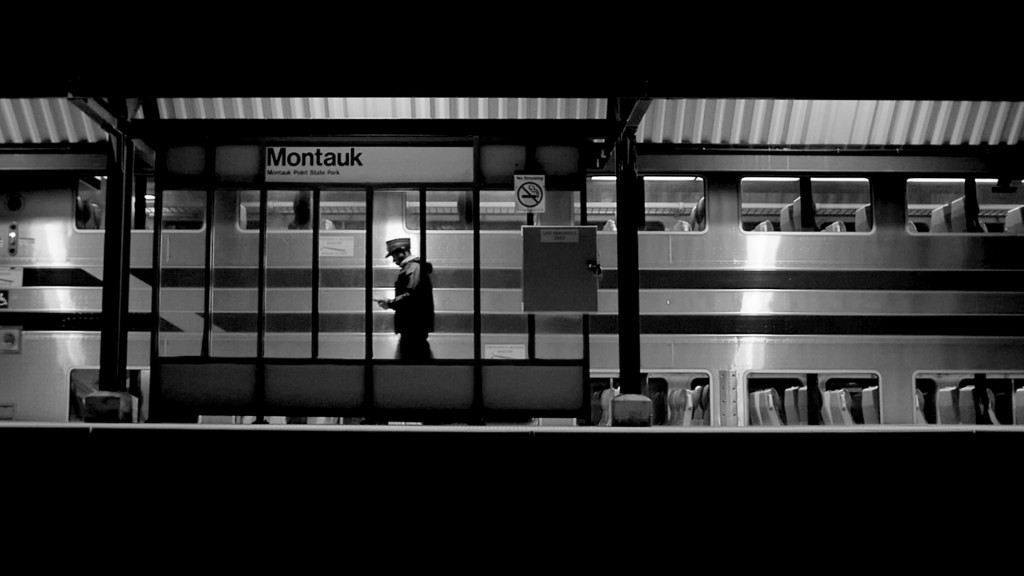 Similar to the approach for Songs from a Lost Piano (2009), I find myself fascinated by the memories inherent in musical instruments. Even though this is an electronic instrument, I remember the words Rudi once told me: "Don't forget – she's an old gal!", meaning that, although the LAMM functions every bit as well as its more modern counterparts, she's a living, breathing entity – a character, with a life, and with memories, and stories to tell.
And in that last statement lies an important subtext: it's not me who makes the music. I'm just someone who flicks the power switch, depresses a handful of keys, and listens carefully to what she has to say…
Hopefully Michael and I can do her justice in bringing some of these memories to life through the mediums of sound and vision.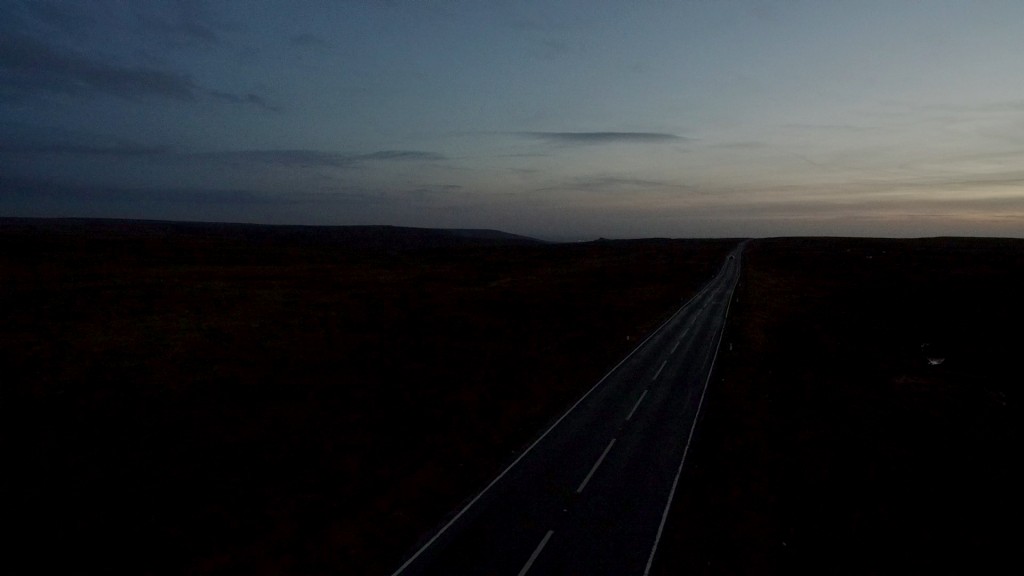 TOUR DATES
March
6 – MANCHESTER – Islington Mill
18 – SOUTHAMPTON – Turner Sims
April
23 – GLASGOW – Outskirts Festival at Platform
December 1st, 2015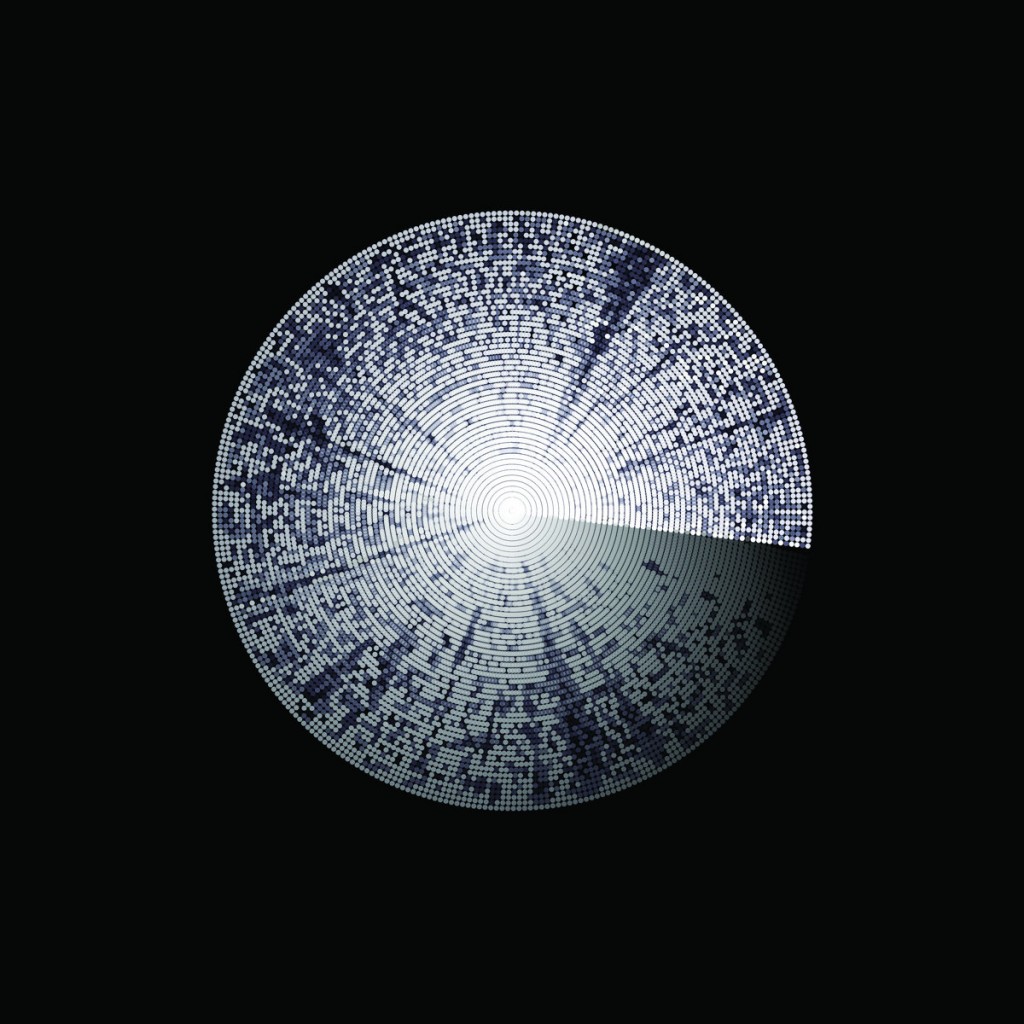 As I began to write this post, I was en route to Luxembourg, and to the Philharmonie, where, together with Franck Vigroux and Antoine Schmitt, we performed another Radioland show. Hopefully this will be the beginning of another series of live performances abroad. And, as I now continue to write, several weeks later, the album versions of this project is now available via Bandcamp, where you can also preorder the 20-page hardback CD book, and deluxe gatefold vinyl editions. The release of Radioland on The Leaf Label, has highlighted just how far this project has come since Franck and I decided to embark on such an adventure back in August 2014. I have already written a little about the process of how we put this show together in a previous blog post, but I thought I might revisit this a little, and share a few reflections on the process of recording Radioland.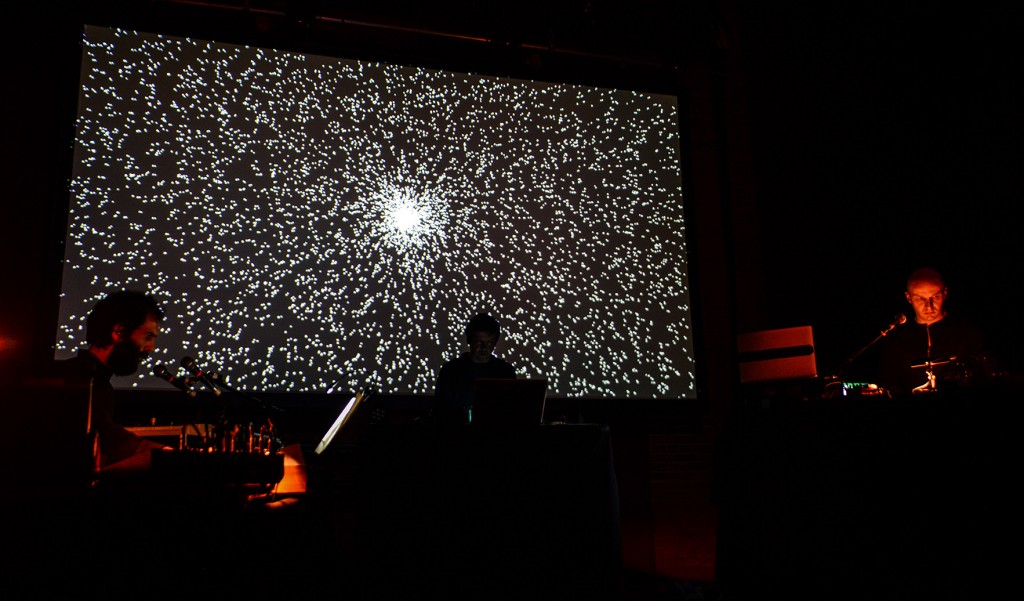 The entire process of recording this album followed that of our previous method, involving Franck sending me his audio files over the internet, which I then imported into Logic, tracked my synthesiser parts; sending these in return. This whole process was then repeated by Franck, vice versa, ad nauseam, ad infinitum, et cetera, et cetera; until we were satisfied with the results. Much of this will be nothing new to those who already collaborate with those living at a distance. Although, as much as I marvel at how technology has made international collaboration much easier, almost instant, in fact; the downsides of this are that one isn't able to hang out with/be hosted by one's collaborators. It's funny to think that, only a few years ago, sharing files via the humble data stick was considered the height of convenience, whereas now, even leaving one's seat to pass it across the room seems to have become a monumental effort…
As all of the music was already in place, and developed further as the live performances progressed, we decided that, rather than document the segued order we had devised for the live shows, we would instead work title by title, further personalising our interpretations, and favouring the running order of the original album (we had completely changed the running order of the tracks; added linking segued passages and our own original material, maximising the effect and spirit of the original titles for a live setting).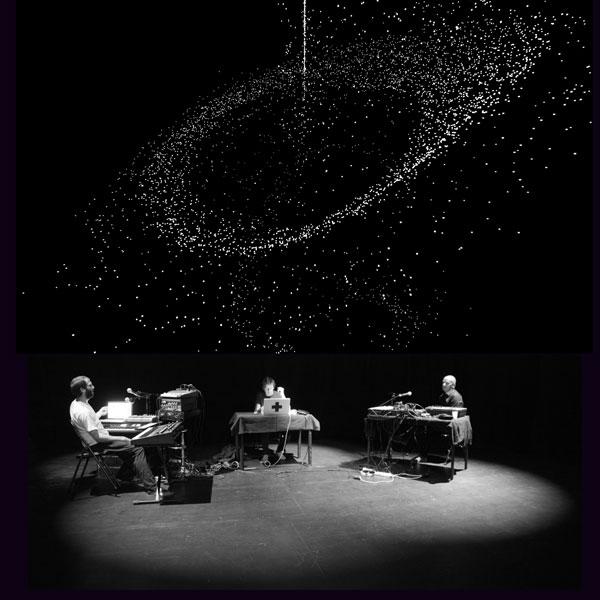 As one will hear from the recording, much of the original material remains intact: some key themes are referred to overtly, and others may only be referred to subliminally; the essence of the originals possessing more than enough inspiration for us to explore other directions…
I am very proud to have been a part of Radioland, not least as it has afforded me the chance to work with artists such as Franck and Antoine (whose awesome live generative video stills adorn the pages of the deluxe gatefold vinyl and twenty-page hardback book CD editions of the album). The quality of the music and the austerity of the album art will hopefully go some way to effectively reflect the elements of the live performances, and provide some consolation to those who haven't yet experienced it as an immersive, audio/visual experience. Finally, our take on Kraftwerk's Radio-Activity album, would not have been made available in any format, it were not for the efforts of all at The Leaf Label, and consultation with Kraftwerk themselves. Thank you, guys.
Now, "Listen to The Melody…"
Radioland is available for download on Bandcamp – where you can also preorder the 20-page CD Book and deluxe gatefold vinyl versions, just in time for Christmas…
February 23rd, 2015
As some of you may have seen from my recent newsletter, myself, Franck Vigroux, and installation artist Antoine Schmitt will be radically reworking Kraftwerk's Radioactivity album in honour of it's 40th Anniversary this year.
It all started in the summer of last year, with my suggestion to do something together with Franck – as it has been some years since the release of our duo album, me madame (good news from wonderland), and thought it was about time time we did something again. To cut a long story short, we agreed that we weren't going to improvise (we know each other's playing enough not to rehearse), and that we should explore something a little more relevant to where we've found ourselves; both technologically and musically. Franck mentioned that 2015 would be the 40th anniversary of the aforementioned Kraftwerk album. So, the decision of what we should explore was easily reached.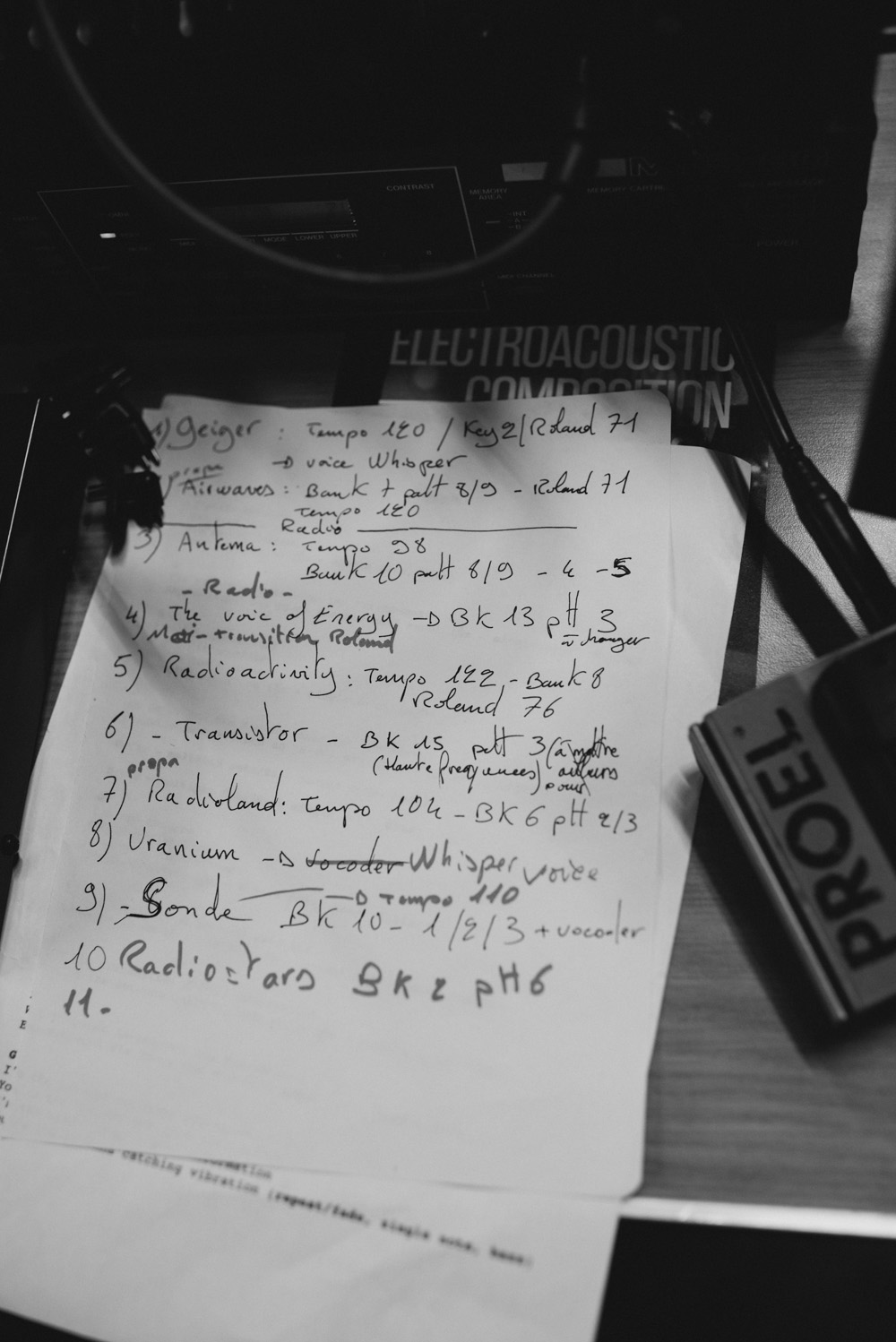 After an initial get-together at Franck's place, it wasn't until Antoine became involved that we decided against replication of the music, in favour of reworking the material; bringing all of our creative approaches to bear on the original titles. Sound UK then came on board and helped us to turn this idea into reality in the form of a series of UK dates in March, with more shows to be announced throughout the year. Stay tuned via the APPEARANCES page for more upcoming Radioland shows.
Meeting up in Leeds earlier this month, we were kindly hosted by Leeds College of Music and their amazing technical team, using The Venue and the downstairs space at The Wardrobe, opposite, where the images featured in this blog were taken (by the excellent Sarah Mason).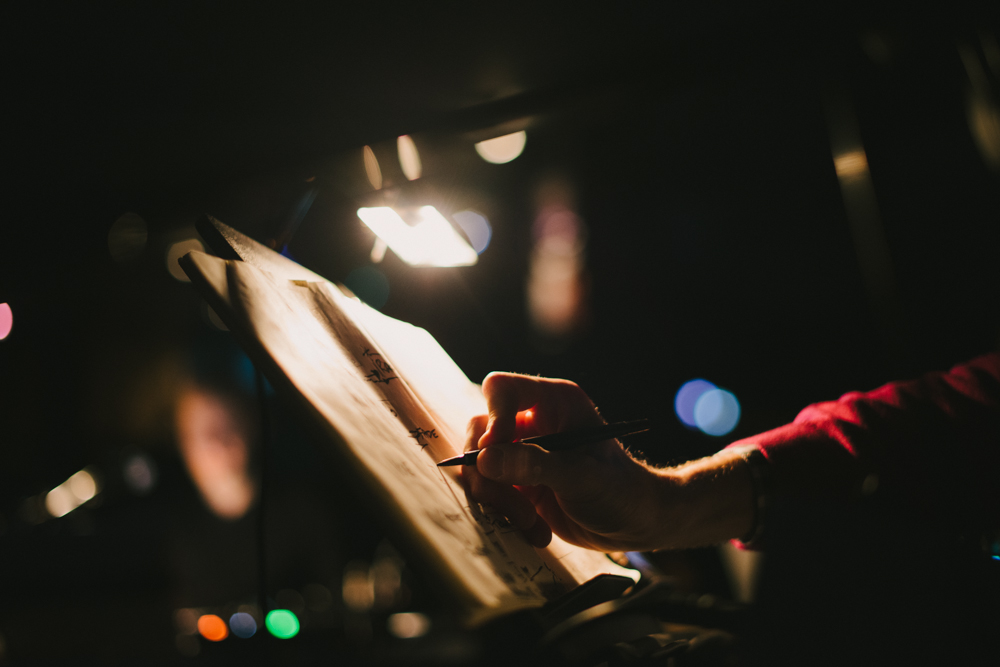 Now for a modicum of geekery regarding some of the equipment, which is arguably appropriate:
Franck and I are using a number of different means of generating the sounds – using a setup heavily-biased towards the analogue… I'm using a Lintronics Advanced Memorymoog (LAMM) for the lion's share of the sounds, with the addition of a Minimoog Model D, Korg MS-10, Microkorg Vocoder, and, my most prised, well-loved (and very well-used) Roland Space Echo RE-201.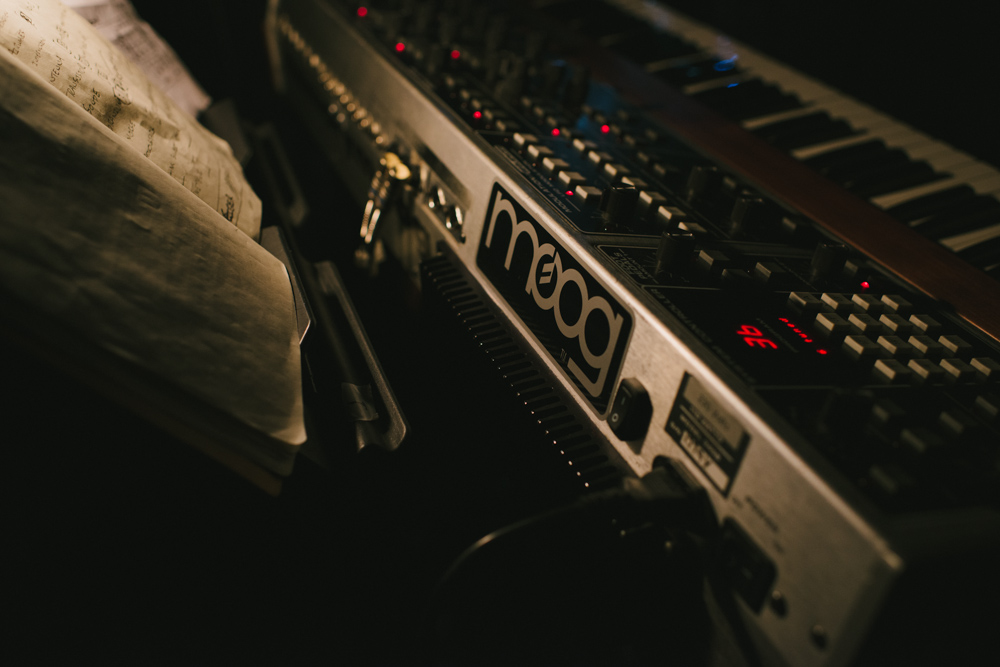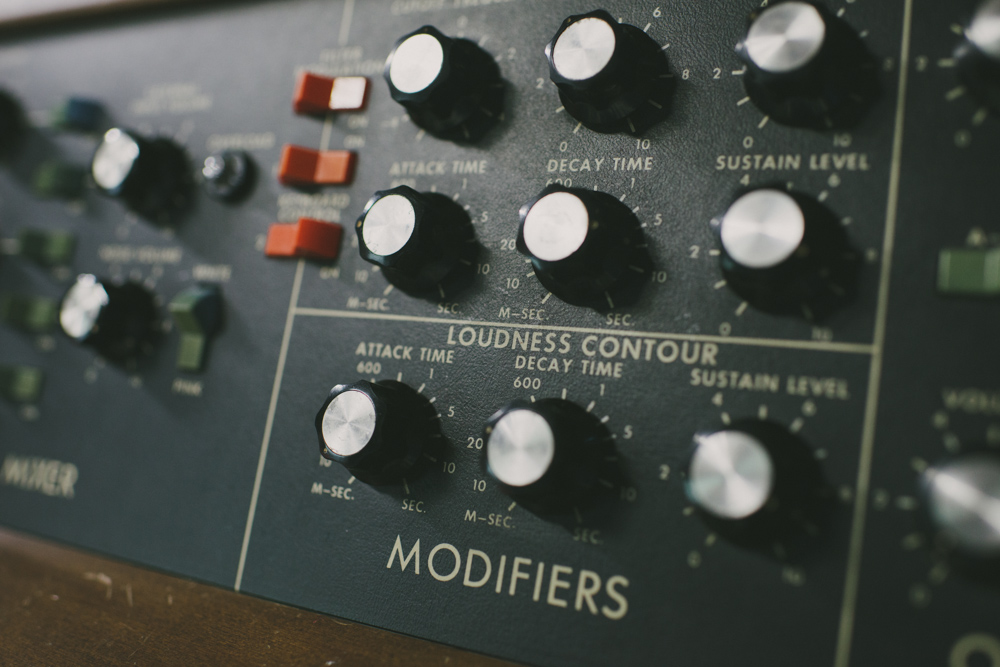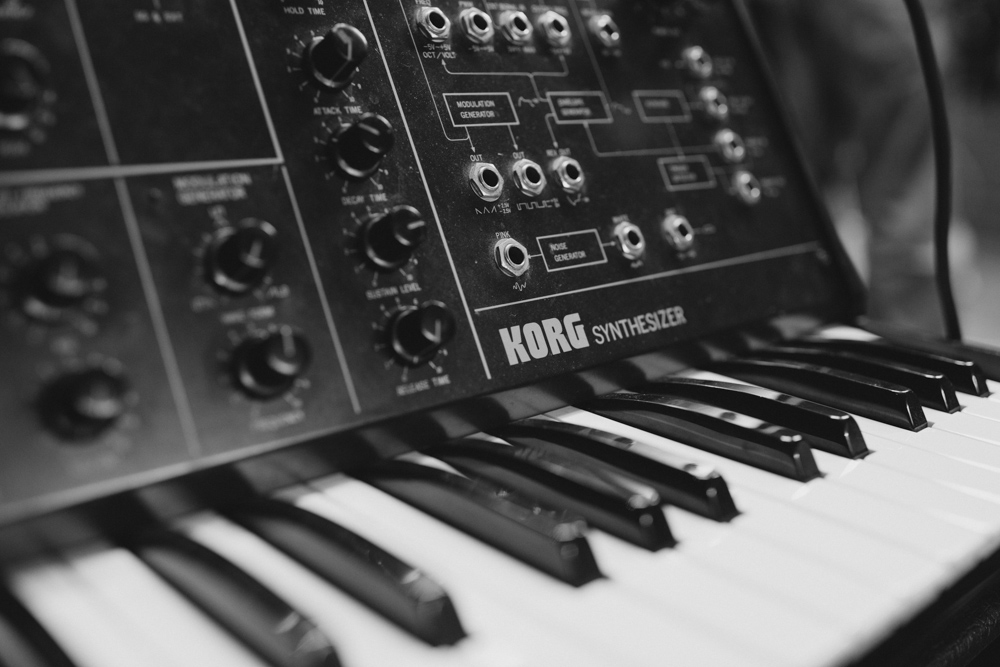 Franck uses a variety of analogue rack mount instruments: Roland MKS-80 Super Jupiter, Roland SVC-350 Vocoder, an Electron Oktatrack (for much of the rhythm sequencing), and various other tabletop devices.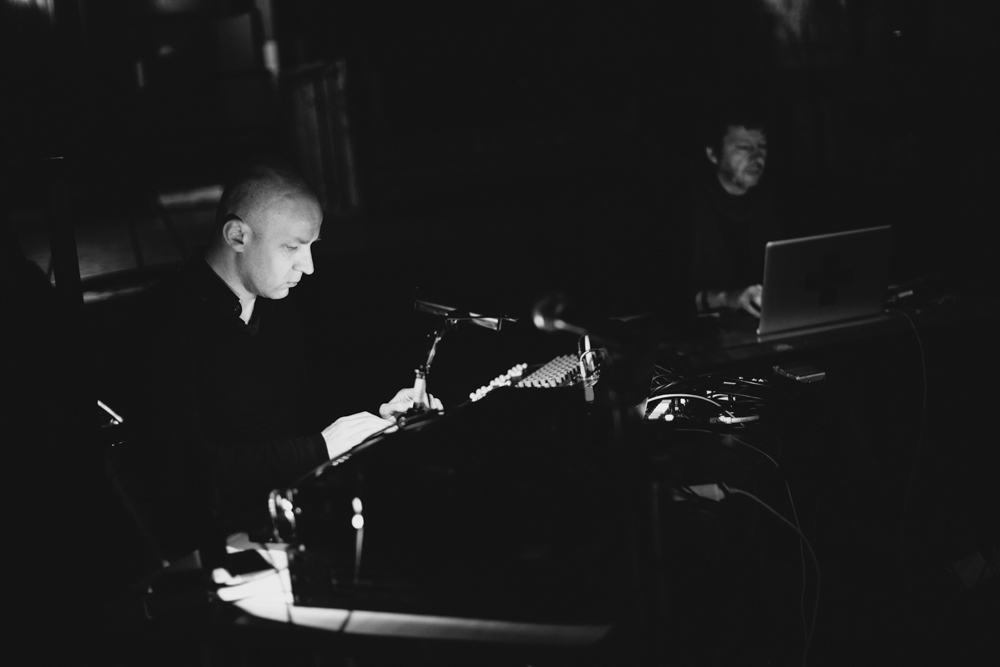 For the video, Antoine programmes all of his visuals via code, creating generative video – in addition to creating his own control programmes in order to perform the video as we are playing the music. Antoine is an integral part of the group in all respects.
Our earlier attempts at recreation last year had been useful form the viewpoint of finding out what we shouldn't be doing. This was solidified by a kind of ongoing 'pre-rehearsal rehearsal' (leading right up to the first show in Leeds on March 13), whereby Franck sends me his sounds/templates for the tracks, I then record and send back to Franck my sounds; eventually piecing together and refining a structure of how the set will/would sound in advance of these rehearsals; meaning we could get on with the business of fine-tuning and refining the material and structure of the show rather than sitting around in a darkened room looking for sounds for days on end. This process has also served us well in providing Antoine with material he can work to in advance.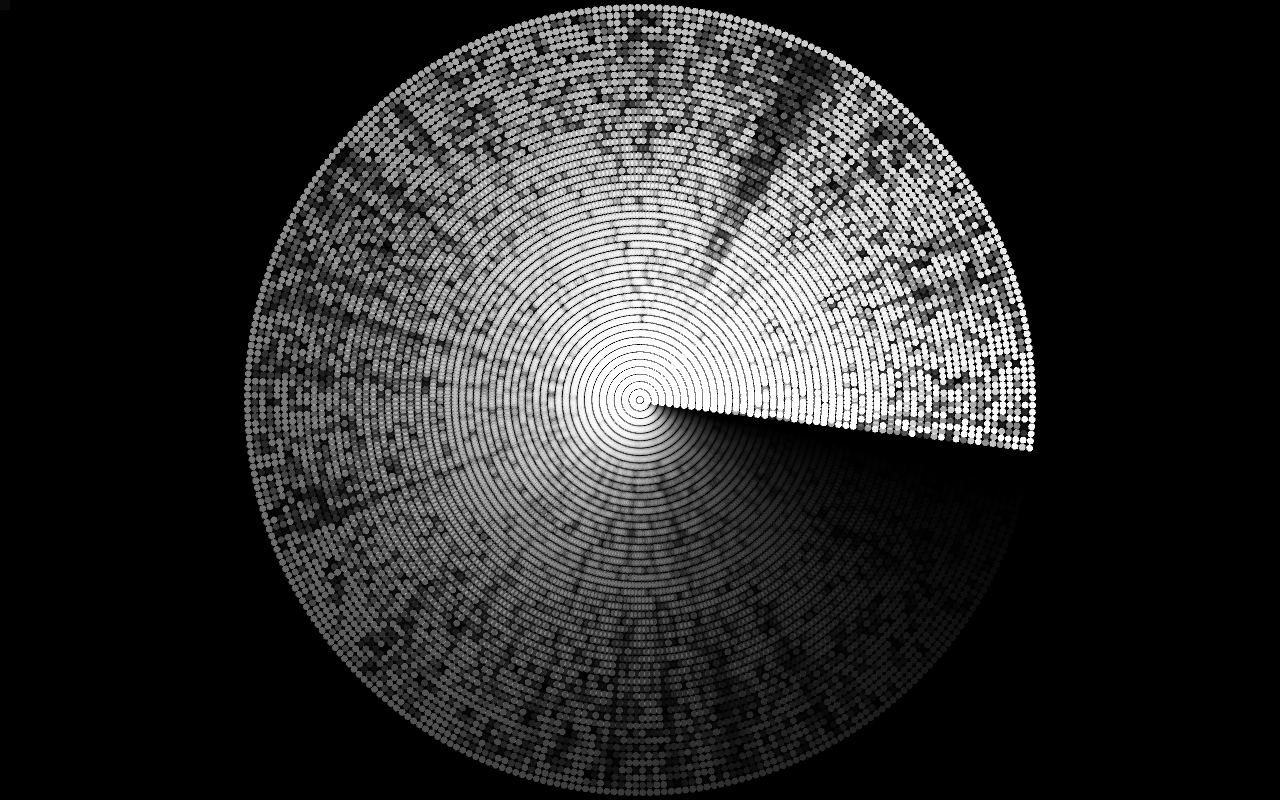 Not wishing to talk too much about the material or bore you with exactly what we've done with each of the album's titles – we would instead encourage you to come along and experience the show(s) at full volume, and with full screen video, too.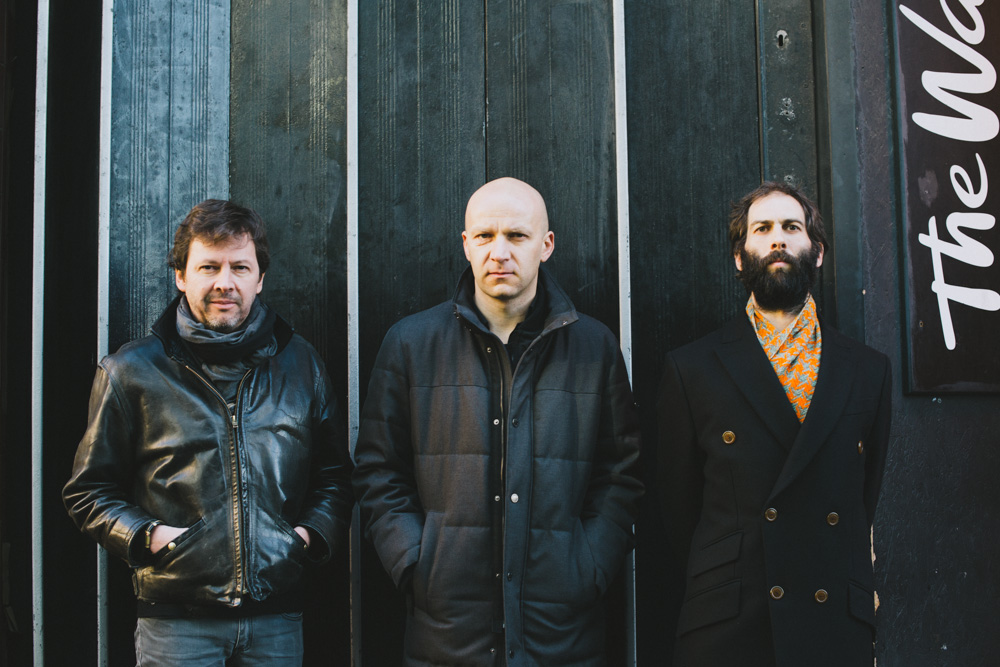 Radioland on Tour:
13 – LEEDS, Belgrave Music Hall
19 – BRIGHTON, Komedia
20 – LONDON, Village Underground
21 – BRISTOL, Colston Hall
22 – EXETER, Phoenix
23 – MILTON KEYNES, The Stables
Radioland Rehearsal Photo Gallery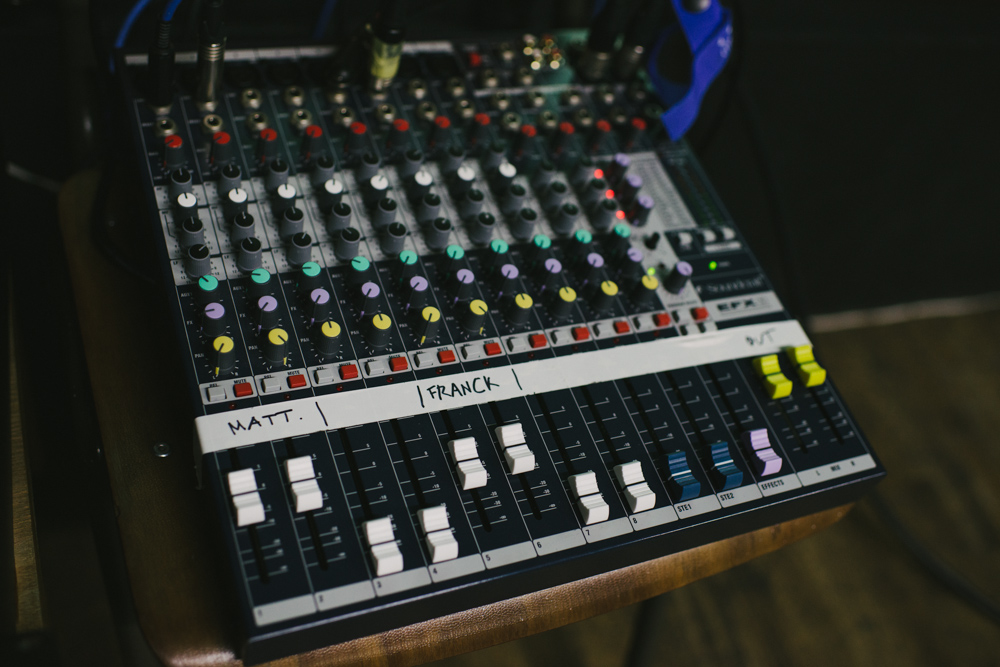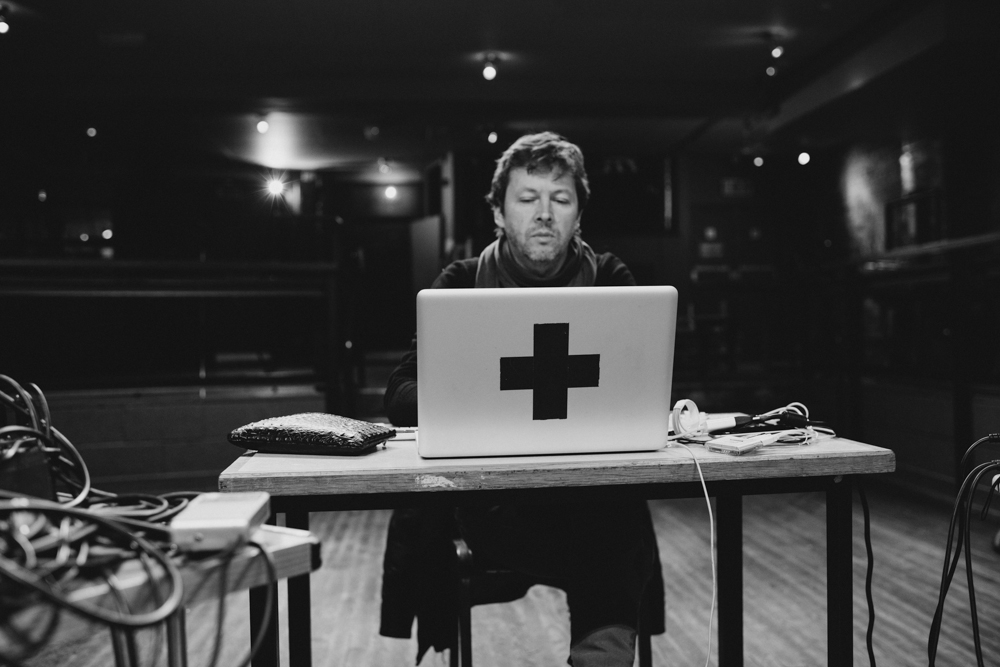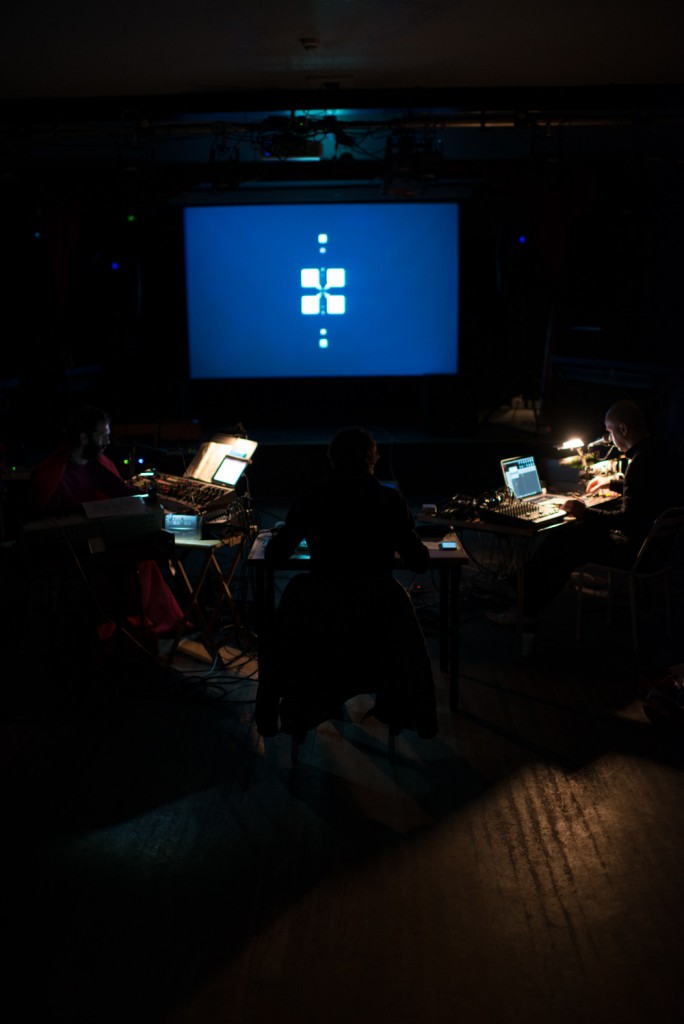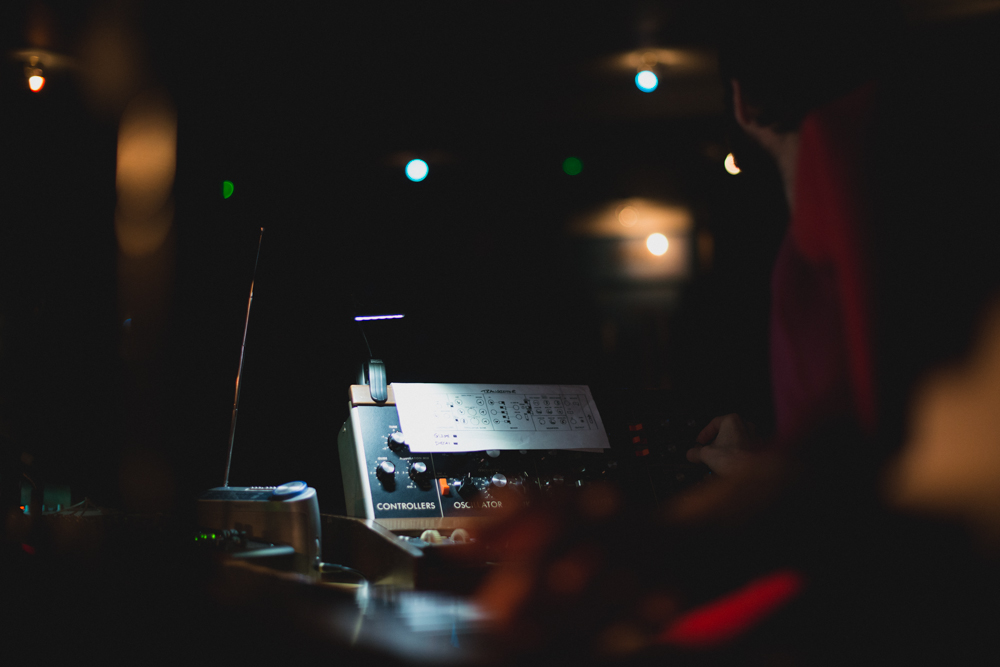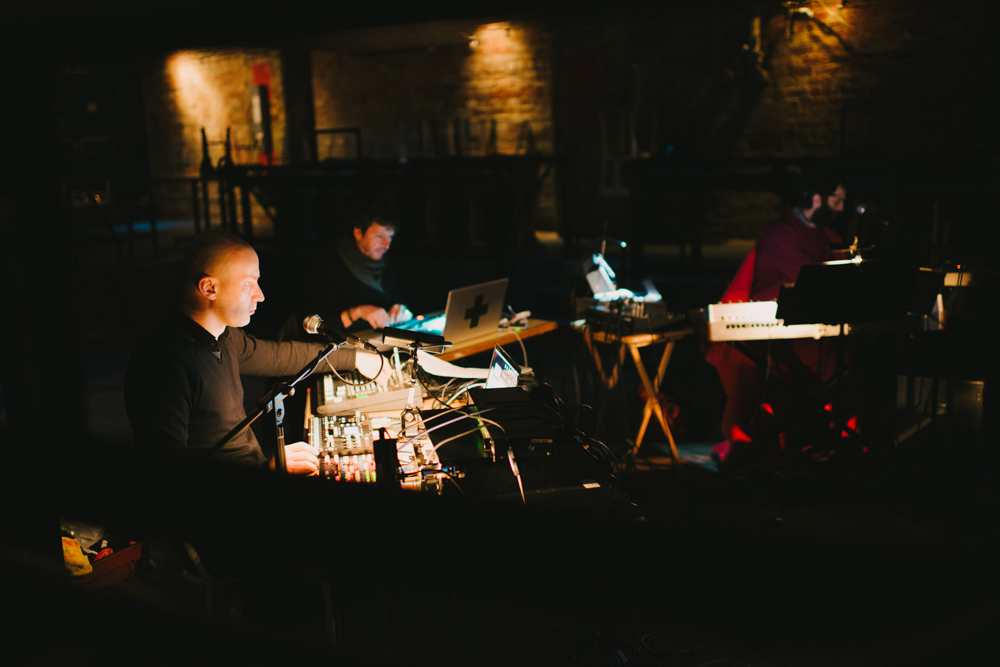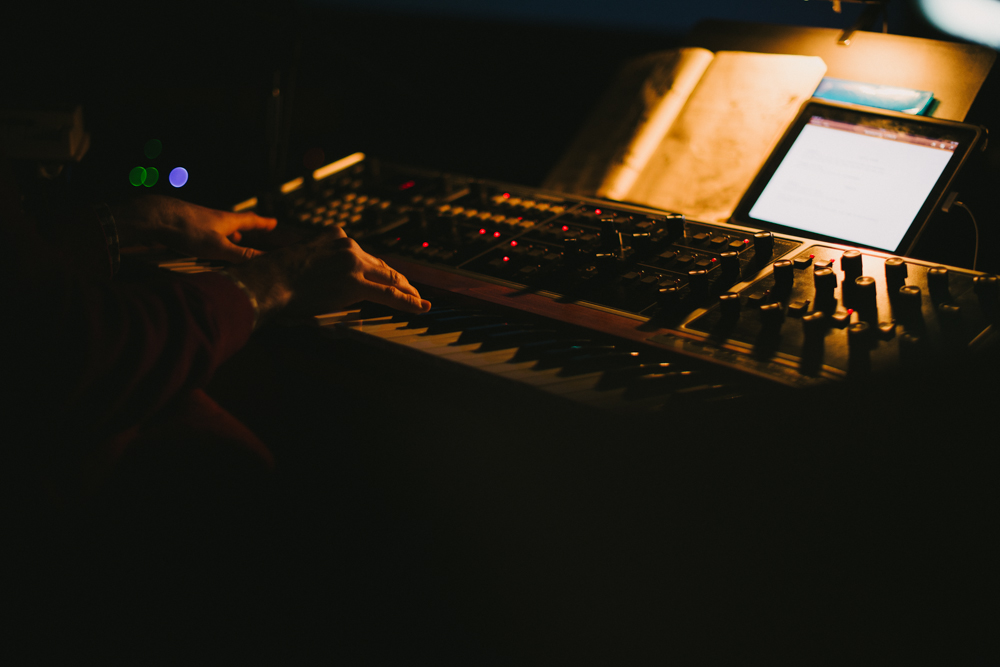 September 27th, 2013
Earlier this year, the inimitable Jon Quail of (the equally inimitable) Marsden Jazz Festival, commissioned me to create something special for this year's New Stream strand. We discussed various ideas and settled on the idea of a solo show of some kind. Being far from a stranger to solo piano performance, it was made very clear that this concert had to be something a little different…  Without too much forethought, I suggested a programme of solo synthesiser music. Now, I'm a huge fan of anything old and analogue, much to the detriment of my bank account over the years, and have always used any such instrument when a piano isn't available. Although, one would have thought that a relatively recent transgression towards using an iPad/MIDI keyboard combination would have caused me to ditch the characteristically awkward proportions and often cumbersome weight of the former, but instead it just lead me on to rejecting the chair in favour of the bare stage floor and simply arranging said synthesisers within easy reach of each other without the need for keyboard stands. So much for embracing the digital age.
The decision to entitle this project the 'Bourne Synthesiser Show' is a direct homage to the pioneering work of Annette Peacock and Paul Bley (with albums such as 'The Bley/Peacock Synthesizer Show, Improvise, Revenge (The Bigger the Love the Greater the Hate) and I'm the One, deserving particular mention).
It was Peacock's enthusiasm for new musical technology (and some not inconsiderable persuasion by both Peacock and Bley) that convinced synthesiser pioneer, Bob Moog, to let them leave his factory with one of the earliest modular units – gratis!! Unfortunately, I'm neither fortunate or knowledgable enough to own or even know how to turn on a similar modular system(!), but I have collected a few choice instruments along the way. It was Graham Hearn's electro-acoustic music class at Leeds College of Music that first introduced me to basic synthesis and tape techniques via an EMS SYNTHI A and a Revox tape machine. I've been hooked on analogue technology ever since. A few years later I bought Graham's boxed Korg MS10  and, over ten years on, is still a reliable and trusted old-faithful in my setup today. Marrying this with a Korg 700s, a LAMM Memorymoog and a Roland Space Echo RE-201, the setup is unapologetically analogue…
The challenge of this particular commission is actually two-fold: firstly, limiting myself to using only synthesisers (for projects such as Bilbao Syndrome, COLLIDER, and World Sanguine Report, et al., their function has largely ancillary to that of the Fender Rhodes electric piano). Of course, there is nothing strikingly new or original about doing this at all (especially for someone like Jean Michel-Jarre, Tomita or Franck Vigroux) but, personally speaking, it's taking a little getting used to – especially as the understanding of the instruments I have at my disposal is largely intuitive and much of the music I create is improvised.
And therein lies the second part of the challenge: what is the most effective methodology by which to 'compose' a programme of solo synthesiser music, given the comparative ease and comfort that improvisation has afforded over the years? Strangely, the process of working on this particular commission is almost identical to that of approaching other work, be it improvised or otherwise. For instance, shortly after discussing all this with Jon, I was asked to support Melt Yourself Down at the Brudenell Social Club in Leeds – I apprehensively took only three synthesisers and a space echo and hoped for the best. I came away with a recording of the set from Pete Wareham's laptop, which seemed to capture one or two ideas that had some potential…
In a similar vain, the recent living room concerts with acoustic bass guitarist Howie Reeve has allowed for the consolidation of these ideas and also for others to emerge – all the while gaining a deeper (although still intuitive) fluidity with the control of the instruments. So, in many ways, becoming more familiar with a particular combination of synthesisers through refining a few existing ideas whilst still courting the unpredictable, seems the most appropriate way to proceed. I'm not so much concerned with writing individual tunes or compositions but rather trying to become at one with a process of composing that is of my own devising rather than one that is only evidenced by notated music. Besides, it's more fun and uses less paper – which is good for the environment.
SO, the best way to find out what all this is about is to come along to the gig at the Marsden Royal British Legion Club on Saturday October 12 at 12:00.
This concert was made possible with support from the PRS Foundation
---