World Tour of London announced!!
September 18th, 2012
It's been a long time since the last news bulletin BUT we have great pleasure in announcing Matthew Bourne presents Matthew Bourne's World Tour of London. There will be four shows around the capital between October 9 and 14.
So, the idea behind these shows was to do something slightly different for each performance – kicking off on Oct 9 at Laban Theatre, Bourne will be playing a series of piano duos and taking part in a piano 'relay' which will be broadcast on BBC Radio 3's Jazz on 3 show at a later date.
Show number two, on Oct 11, forms the opening night of Talvin Singh's Symbiosis Of Sound festival at King's Place. A sonic exploration of the piano alongside Ustav Lal and a pre-concert introduction from Singh.
A performance of Bourne's recent Montauk Variations album at St. John's Smith Square is the penultimate date of the tour on October 12th.
A debut performance of Billy Moon, preceeded by a solo Memorymoog set AND a set from Andrew Plummer's World Sanguine Report at the Shacklewell Arms rounds up this trailblazing World Tour of London on October 14th. This is a free gig BUT YOU WILL STILL NEED A TICKET – make sure you click HERE to get one!!.
Check out the live page for full details and ticket links.
Don't forget to sign up to the newsletters for more updates and information about upcoming events!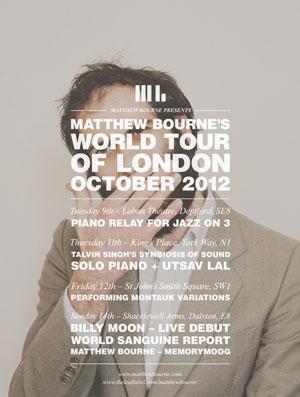 In honour of the World Tour of London and this Jubilee year, Bourne pays tribute to our reigning monarch with this rendition of God Save The Queen…
---