COLLABORATIVE WORK WITH NIGHTPORTS
September 3rd, 2016
Back in 2015, NIGHTPORTS (AKA Adam Martin and Mark Slater), asked if I would be interested in working with them on a new recording project. So, I said YES – and we begun. The first recording session took place on a rainy day at home in Airedale, and the second, in my most favourite place in Leeds city centre: at BESBRODE PIANOS. I owe such a debt of gratitude to Melvin, Steve, Sophie, Trevor, and all the others who work there – they've been such good friends to me over the years I've lived in Leeds (TWENTY YEARS, this year!).
SO – I thought I'd share a few glimpses of the forthcoming project with you. And yes, you can expect an ALBUM RELEASE in 2017…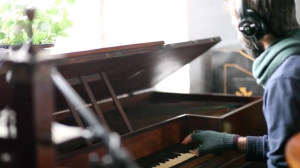 Do have a look at the NIGHTPORTS WEBSITE, read their MANIFESTO, and keep an eye out for upcoming news.
---