BLACK CYGNET – AN EVENING OF NEW MUSIC AT THE WHITE SWAN, LEEDS
November 12th, 2016
This year, Leeds College of Music have asked if I would curate six evenings of music at The White Swan, in Leeds. The musical focus of these evenings emphasises  original and exploratory music; showcasing student bands from LCoM alongside players from the UK scene (and beyond). The first of these concerts will take place on NOVEMBER 15, and will feature myself, Ed Jones (saxophone), and Joost Hendrickx (drums); and 'John Frisco', led by LCoM student, LARA JONES.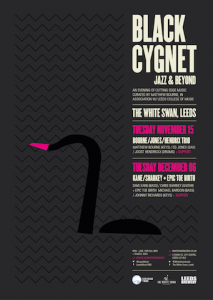 The second concert on DECEMBER 6, will feature two duos: Dave Kane (bass) & Chris Sharkey (guitar/electronics), and Epic Toe Birth: Johnny Richards (keyboards/electronics/piano) & Michael Bardon (bass/electronics).
Do come along THIS TUESDAY, NOVEMBER 15, have a few winter pints of local ale and craft beer at The White Swan, and support this new event. I couldn't think of a better way to take enjoy the refuge from the cold weather on a Tuesday night…
 Stay tuned via FACEBOOK, or watch out for #BLACKCYGNET on Twitter.
---